Bonus harian di Keluaran SDY 2020 – 2021.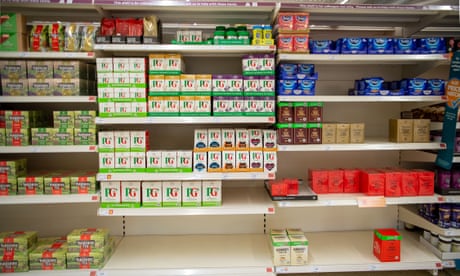 The UK's upcoming introduction of checks on EU food and drink imports could cause more supply chain problems, the industry fears.
Andrew Opie of the British Retail Consortium says these new checks could create more food waste if the checking and certification process doesn't run smoothly, and fresh products don't arrive in time.
Richard Harrow, CEO of the British Frozen Food Federation, is also concerned, pointing to a lack of clarity about how the new checks will be handled.
There could also be a shortage of vets to check inbound animals.
Harrow adds that the UK should delay the introduction of physical import checks for a few days beyond January 1st 2022, as it's a bank holiday.
The EU have made a similar decision with new health certificates, but the UK hasn't agreed.
Alex Veitch of Logistics UK says the government should get some credit for deciding to delay these checks on EU imports, and to stagger their introduction [they were postponed because the border posts needed to process incoming goods wouldn't be ready in time].
He like to see some of that pragmatism when it comes to the supply chain crisis.
Veitch also warns that things could go wrong once the import checks come in….
There will inevitably be some food price increases, says the British Frozen Food Federation's Richard Harrow.
Figures from the BRC this week showed that shop prices rose last month, in a sign that driver shortages and the costs of Brexit-induced red tape are lifting costs.
The UK's food sector is particularly hurt by vacancies, points out the BRC's Andrew Opie:
Consumers could suffer from a reduction of choice on the shelves, predicts Richard Harrow of the British Frozen Food Federation.
Brexit is also causing challenges, with the full impact yet to be felt…
Alex Veitch, general manager for Public Policy at Logistics UK, which represents the UK's logistics sector, says there is a chronic shortage of workers such as lorry drivers.
Giving temporary work visas to EU HGV drivers would be a short-term help, he explains.
Last week, Logistics UK called for 10,000 temporary visas to be granted to EU workers.
Veitch adds that salaries for lorry drivers are bound to rise, and are already going up, given the increased demand.
He also explains that the pandemic has affected the recruitment of new drivers, as it disrupted the driving exams which candidates must pass.
Andrew Opie, director of Food & Sustainability at the British Retail Consortium, adds that the current situation is already challenging, and getting much more challenging in the next few months.
It feels like retailers are always on the edge of coping, he explains, with companies across the supply chain always trying to keep its head above water, he tells the UK Trade and Business Commission.
Crucially, there's no slack in the system, so any fresh problems will have a knock-on impact on consumers, Opie says.
Q: So is it going to get worse? And what's going to happen about Christmas?
Opie says the situation is incredibly challenging in some areas, and suggests that delivery times for online orders could be difficult.
And he points out that there's still time to address these problems – if the government takes action.
It's not too late for the government to do something about it, Opie says.
The BRC are among the groups asking for temporary work visas for HGV drivers from the European Union to address the driver shortage – although these calls have been rebuffed.
But retailers aren't anticipating major problems at Christmas at this stage, he adds.
The worker shortages hitting the UK economy go far beyond just lorry drivers, says Richard Harrow, chief executive at the British Frozen Food Federation.
He tells the UK Trade and Business Commission hearing that there are shortages across the entire supply chain.
If you can't get engineers to fix problems, you can't run your production line, he points out.
Harrow says he's never seen these pressures across a wide range of issues, both the availability of labour, and rising costs (both materials and wages).
He cites one BFFF member who says everything they pay for is going up in price.
We are facing a perfect storm, Harrow adds.
The UK Trade & Business Commission is holding a hearing into the UK's supply chain problems and driver shortages.
Andrew Opie, Director of Food & Sustainability at the British Retail Consortium, explains that the sector has been coping with major supply chain disruption for almost two years, since the pandemic began.
But, it's become more of a challenge in the last six months.
Since May, when the economy reopened, there has been more pressure in the supply chain – including the driver shortages, and also among production and distribution workers.
Opie explains that the sector is also preparing for more border changes as the UK implements checks on imports from the EU.
And he warns that the UK is entering its busiest period now in the run-up to Christmas.
For non-food companies, a massive proportion of business is done in the next three months, and food companies also see a smaller pickup in demand.
There are huge demands in the next few months to ensure consumers aren't disappointed at Christmas. The situation is challenging now, and going to get more challenging, Opie adds.
You can watch the hearing here:
UK food and drink sales to the European Union have fallen sharply in the first half of this year, according to a new report from the Food and Drink Federation this morning, as Brexit trade barriers hit the sector.
Total UK food and drink exports were down 4.5% in January-June compared with the first half of 2020, and 17.3% lower than in the same period in 2019, the FDF says.
Although exports to non-EU markets are recovering towards pre-pandemic levels (up 13% this year), sales to the EU were down 15.9% year-on-year at £4.9bn, from £5.8bn in H1 2020.
Compared to 2019, food and drink exports to the EU were down 27.4% in the first half of 2021, a loss of almost £2bn, with sales to the Republic of Ireland badly hit.
The FDF attributes this fall to "the ongoing impacts of the COVID-19 pandemic, and the new trading relationship with the EU".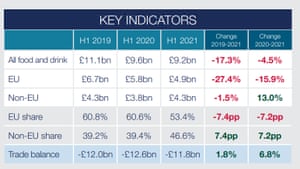 The FDF says:
Exports to the Republic of Ireland, our biggest export market, fell significantly with a loss of 22% compared to 2020, and 27% compared to pre-COVID data – a loss of more than £0.5bn.
Sales to non-EU countries were up 13% in H1 2021 compared to H1 2020, driven by a return to growth in China, Singapore, Australia, Japan and the Gulf region.
Exports to China were up more than a quarter compared to 2020, with increased sales of nearly £100m. However, the loss of sales to Germany, Spain and Italy of around a third, resulted in lost exports totalling £445m in the past year.
Dominic Goudie, Head of International Trade at the FDF, said:
"The return to growth in exports to non-EU markets is welcome news, but it doesn't make up for the disastrous loss of £2bn in sales to the EU. It clearly demonstrates the serious difficulties manufacturers in our industry continue to face and the urgent need for additional specialist support.

"At the same time, we are seeing labour shortages across the UK's farm-to-fork food and drink supply chain, resulting in empty spaces on UK shop shelves, disruptions to deliveries and decreased production. Unless steps are taken to address these issues, the ability of businesses to fulfil vital export orders will be impacted."
Food imports from the EU have also dropped, down 11.2% in the last year and almost 15% lower than two years ago.
UK food producers now face stringent post-Brexit rules when selling into the EU, although the UK has delayed similar rules on imports.
Politics Home have more details:
Barratt Developments has said strong demand for houses across the country helped to boost annual profits by nearly two-thirds in its latest financial year, as it signalled continued strong demand for housing across the UK even as the government pulls back coronavirus pandemic support.
Britain's second-largest housebuilder by market value, reported profits before tax of £810m for the year to the end of June, compared with £490m in the previous year, and said a strong forward sales book was encouraging for the year ahead.
Barratt's revenues for the financial year at £4.8bn were only 1% lower than the equivalent in 2019, before the effects of the pandemic. It completed 17,200 houses, only 600 behind 2019 and 4,600 ahead of the 2020 financial year, which included the first national lockdown.
David Thomas, Barratt's chief executive, said the company had made "excellent progress this year".
"We have begun the new financial year in a strong position and, whilst there are still uncertainties ahead, our strong balance sheet, forward order book visibility and construction activity to date all stand us in good stead. There is very strong demand for houses across the country."
More here:
Barratt is also experiencing the impact of rising raw materials costs (with timber, cement, bricks, steel and copper having all jumped in price).
Russ Mould of AJ Bell says:
"Further price increases would help the builder offset increases in input costs which the company says are proving persistent (despite central bankers' insistence to the contrary. Barratt's results presentation flags its expectation that input costs will rise by 4% to 5% in the year to June 2022.

"However, price increases raise the question of affordability. The stamp duty break has helped here and so has Help-to-Buy.
The prices charged by eurozone factories jumped sharply in July, driven by more expensive energy and intermediate goods.
Prices at factory gates in the euro area rose 2.3% month-on-month, and were 12.1% higher than a year ago.
This shows the dramatic surge in costs since the first lockdowns ended, which has driven the debate about whether the jump in inflation will be transitory, or more permanent…
Energy prices did the most damage, up 5.7% in the month, while intermediate goods (used to make final products for sale) rose 1.9%. Durable consumer goods prices were up 0.7%, while capital goods rose 0.5% and non-durable consumer goods by 0.1% compared with June.
Over the last year, eurozone producer prices have increased by 28.9% in the energy sector, by 12.6% for intermediate goods, by 2.7% for durable consumer goods, by 2.6% for non-durable consumer goods and by 2.5% for capital goods.
If you exclude energy, factory gate prices are still up 6.7% over the year.
Factories have been juggling rising commodity prices, transport costs and increased wages amid the supply chain crisis.
These higher producer prices can often passed on to consumers in the shops, pushing up inflation — which has just hit a decade high of 3% in August.