Bonus harian di Keluaran HK 2020 – 2021.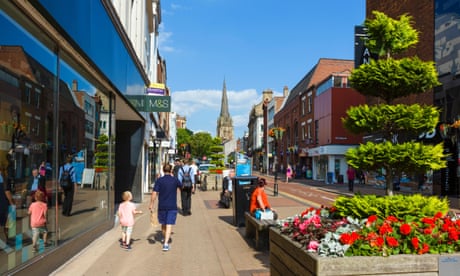 Shares in UK travel companies are lower again today, as rising Covid-19 cases threaten hopes for the summer.
British Airways parent company IAG are down 1.9% at 173p, the lowest since late February. Budget airlines easyJet (-1.5%) and Wizz Air (-2%) have both dropped.
WH Smiths, which runs retail outlets at airports and railway stations, are down 2.8%, on concerns that holiday traffic will be lower than hoped.
Travel stocks also fell yesterday, as Malta and Portugal announced restrictions for non-vaccinated UK travellers and Spain said British tourists must provide a negative PCR test or proof of vaccination to visit.
My colleague Daniel Boffey reported yesterday that hopes have been raised of summer holidays in Europe for fully vaccinated Britons, as a deal with Brussels on Covid passports neared completion and Germany failed to convince popular destinations to pull an "emergency brake" on UK visitors.
The problem for many families, though, will be that younger members won't have had the opportunity for both jabs, especially not children (with Malta saying children aged 12-16 must be fully vaccinated).
Richard Hunter, head of markets at interactive investor, says hopes of a summer holiday revival are fading, due to concerns over the Delta variant.
Despite there being a number of positive factors contributing to a decent recovery in the UK, the travel and airline sectors have come under renewed pressure. The Delta variant remains a concern generally, and the UK government's reticence to open up the travelling floodgates has been mirrored by a reluctance from some countries to welcome UK visitors.

As such, and with the Longest Day heralding the onset of summer, it is increasingly difficult to foresee anything like the increase in holiday makers which the industry had been pining for over the season.
Package holiday operator TUI's shares are down 3.9%. It yesterday announced it will issue up to €190m of convertible bonds, upsizing a €400m bond offering from April. It will use the funds to reduce its borrowing from Germany's state-owned government development bank (KfW).
Speaking of private equity….Clayton, Dubilier & Rice has moved a step closer to its takeover of UDG Healthcare after raising its offer to £2.8bn and winning backing from big shareholders.
CD&R has increased its offer to £10.80 a share as signalled last week, after its earlier bid of £10.23 a share in May met opposition from some of UDG's largest investors. The UDG board has recommended that shareholders accept the offer, and said it had not received any rival buyout proposals.
The FTSE 250 listed firm's share price rose 0.5% to £10.71 on Tuesday, valuing the company at £2.7bn. Dublin-based UDG employs 9,000 people and provides advisory, communications, commercial, clinical and packaging services to the healthcare industry. It counts the top 30 pharma companies among its clients.
CD&R said that UDG's biggest shareholder with an 8.6% stake, Allianz Global Investors, which had rejected the initial bid as too low, and another investor, Kabouter Management, had agreed to accept the higher offer. Allianz and Kabouter together own for 11.4% of the shares.
However, M&G, another top 10 shareholder, indicated last week that £10.80 a share would still fall short of its expectations. UDG said an extraordinary general meeting to vote on the deal, which had been postponed to allow for further negotiations, will take place on 22 July….
More here:
Bridgepoint, the private equity group behind restaurant group Itsu, online cycling specialist Wiggle and the UK arm of Burger King, is planning to raise £300m with a stock market flotation in London.
The listing, expected to value Bridgepoint at up to £2bn in total, comes amid a surge in private equity deals partly prompted by a fall in asset values during the Covid-19 pandemic. Low interest rates have also led investors to pump money into private equity in search of better returns.
In the UK, supermarket Asda has recently been snapped up in a £6.8bn deal backed by private equity group TDR Capital while its rival Morrisons is expected to be at the centre of a bidding battle between private equity groups after the supermarket's management rejected an initial £5.5bn offer from Clayton, Dubilier & Rice.
Bridgepoint recently bought a stake in Itsu, the Asian food chain created by Julian Metcalfe, having previously backed him during the expansion of sandwich chain Pret a Manger.
The firm, which focuses on mid-sized deals of up to €1bn, was formed in 2000 after a management buyout of NatWest's private equity arm.
Here's the full story:
In the eurozone, confidence among businesses and households has risen sharply this month to a 21-year high, as economies emerged from lockdown.
The European Commission's economic sentiment indicator, which tracks business and consumer confidence, rose to 117.9 in June from 114.5 in May — the highest reading since 2000, and above expectations.
The increase was driven mainly by a strong increase in confidence in the services sector, as vaccine rollouts allowed shops, bars, restaurants and leisure venues to reopen.
Industry confidence increased for the seventh month in a row to a new all-time high.
Consumer confidence posted its 5th consecutive monthly rise, with people more upbeat about their financial situation, the economic situation, and their intentions to make large purchases.
Sentiment in Germany hit an all-time high and improved in the six largest EU countries, except Spain, where it slightly declined (perhaps reflecting concerns over the summer holiday season).
The survey also highlighted that companies expect to raise their prices, and that consumers anticipate higher inflation over the next year.
Oliver Gatland, economist at the CEBR, says the Bank of England's report shows consumers are driving a strong recovery from the economic shock of the pandemic.
However, if the lockdown is extended beyond 19 July, (due to the threat from the Delta variant), this rebound could falter, he points out:
"Today's Money and Credit release provides further evidence of the strong rebound in consumer activity spurred by easing lockdown restrictions.

May's net borrowing position was the first since August 2020, and reflects the growing sentiment among consumers as the recovery from the crisis continues. Though the recent extension to lockdown restrictions may pose a threat to the heightened level of consumer activity, Cebr continues to forecast strong quarterly spending growth of 7.5% and 3.5% in Q2 and Q3, respectively."
Gatland also flags up that consumer confidence has risen as the lockdown has eased, encouraging borrowing
May marked the third stage of the government's roadmap out of lockdown in England, under which various indoor activities were permitted to reopen. This provided new spending opportunities for consumers and encouraged a wave of activity.

The return to net borrowing also reflects growing levels of consumer confidence in May, with the YouGov/Cebr Consumer Confidence Index reaching 113.6, its joint-highest level since April 2016.
The rise in consumer credit in May shows that "old habits die hard, unless there's a lockdown in force", says Laith Khalaf, financial analyst at AJ Bell.
Borrowing is on the rise, and savings are falling back, as the lifting of social restrictions has prompted consumers to reach for their wallets. The data is from last month, and so straddles a significant lockdown easing date.

Since 17th May, hospitality and leisure businesses have been in fuller swing, so we can expect spending trends to have accelerated since then.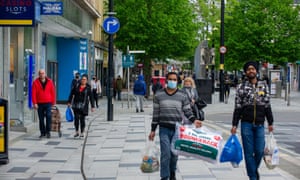 British consumers began borrowing again in May, as a jump in car financing deals and personal loans ended an eight-month run of people paying down their credit bills.
For the first time since August 2020, consumers borrowed more as consumer credit than they paid off in May, new data from the Bank of England shows.
Net borrowing rose by £280m during the month, up from a net repayment of £228m in April (when the public were collectively were paying off their credit bills faster than they added to them).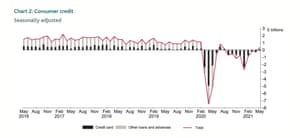 Many shops only reopened after the lockdown during April, while pubs and restaurants in England began indoor service again in May. That lockdown easing has given people the opportunity to spend, perhaps on credit, again.
With the economy reopening, more people are travelling to their place of work – which could lead to more demand for cars.
Also, with company payrolls increasing in May and fewer people on furlough, consumers may be feeling more confident about borrowing (and possibly running up new expenses as they return to work).
Credit card lending remained weak in May compared to pre-pandemic levels, with a net repayment of £101m.
Instead, there was a £381m increase in 'other' forms of consumer credit, such as car dealership finance and personal loans.
Households also put less money into their bank accounts in May, another sign that people may be taking advantage of the opportunity to spend again.
Households' net flow into deposit accounts fell to £7.0bn in May, down from an average of £16.5bn in the six months to April 2021, and below the record high of £27.6bn in May 2020, when the first lockdown drove involuntary saving.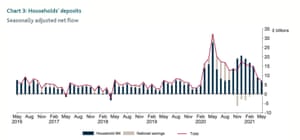 The report also shows that there were 87,500 mortgages approved in May, up from 86,900 in April. That's lower than the recent peak of 103,200 in November 2020, but still higher than before the pandemic.
Net mortgage borrowing rebounded to £6.6bn in May from £3.0bn in April, suggesting that the extension of the stamp duty deadline from end-March has created a rush of demand (it hit a record £11.4bn in March, in the race to complete deals before the first deadline)
So, taken with the jump in house prices in June, it suggests that consumers are helping the economy recover from its pandemic slump.
Back on house prices….Newsnight's Ben Chu has flagged up just how sharply they've risen in the last year:
Labour's shadow business secretary Ed Miliband is backing the call for more government support to help the car sector reach an electric future.
He's told the SMMT's Summit this morning this should include interest-free loans to help people buy an electric car (new or second-hand), and funding for new gigafactories to build the batteries to power them.
Today's report points out that the UK is on track to fall behind major rivals in the race to build gigafactories.
While the costs for building zero emission vehicles are falling, this is not happening quickly enough for the industry to hit the 2030 target whilst retaining its global share and volume of production.

Unlike other major governments, the UK has yet to back its ambition with a matching level of investment in battery production incentives, charging networks and affordable clean energy. Independent analysts predict that by 2025, the UK will have just 12 GWh of lithium-ion battery capacity, compared to 164 GWh in Germany, 91 GWh in the US or 32 GWh in France.
Here's more details:
SMMT CEO Mike Hawes has also warned that the UK's most important trade link remains with Europe, underlining the importance of a good relationship between the two.
While Australia (who agreed a free trade deal with the UK this month) is a sizeable market – it's nowhere as big as Europe, he told this morning's press conference:
My colleague Lisa O'Carroll tweets:
And here's Hawes' warning that the UK needs to build more gigafactories: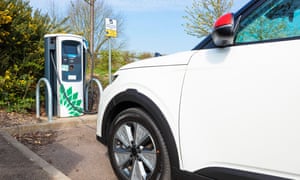 Britain's car industry has warned that 90,000 jobs are at risk in the UK, many in areas the government is keen to 'level up', unless the country builds more battery factories to support the transition to electric vehicles.
In a new report, the Society of Motor Manufacturers and Traders (SMMT) says the UK must pledge to build gigafactories where electric batteries are made, and ensure that 2.3 million public charging points are in place by the end of the decade
The plan calls for a new 'Build Back Better Fund' to support UK industry, not just the auto sector, in the move to net zero – from upgraded production lines and supply chains to improved skills, and more competitive energy costs.
It also calls for a "binding target of 60 GWh of battery capacity be built by 2030".
These 'gigafactories' would give British manufacturers the capability to produce up to one million electric vehicles a year and ensure tariff free access to critical markets in the EU.
Nissan is expected to announce plans to build a gigafactory in Sunderland later this week, which would produce 6 gigawatt hours of battery capacity a year. The SMMT, though, says many more such factories are needed.
SMMT CEO Mike Hawes warns that the industry is entering a crucial period.
The next few years represent a critical period for the sector. The pace of technological change is accelerating and the competition more ferocious.

If we are to secure vehicle manufacturing in this country, with all the benefits to society that it brings, decisions need to be made today. The automotive sector is uniquely placed to help this government deliver on its agenda; to level up, deliver net zero and trade globally. The Government has made clear its support for the sector in its negotiations with Europe, so now is the time to go full throttle and take bold action to support one of Britain's most important industries."
Speaking at a press conference this morning, Hawes points out that many UK car manufacturing sites are based in areas such as the West Midlands, the North East and North West – areas targeted by the levelling up plan.
The report also highlights the need for more charging points to help motorist move to electric cars – particularly those who don't have a drive to park their car on when charging it.
Finally, to support market transition, the report calls for the installation of at least 2.3 million charging points nationwide before the end of the decade.

This would ensure all drivers – especially those without driveways – have the confidence to invest in the latest zero emission technologies, investment that will not just support a healthy domestic vehicle market, but which will underpin mass market automotive manufacturing in the UK and help deliver the country's climate change and air quality goals.
The report argues that the UK could create 40,000 new jobs by 2030, if it moves to a zero emissions future "with ambitious global trading terms" and significantly improves its attractiveness for business investment.
This would provide a significant impact in auto heartlands such as the North-East and West Midlands, directly helping 'level up' the UK.
Under that "optimistic" scenario, the UK builds 80 GWh of gigafactory output.
But the SMMT warns that in a pessimistic scenario, the UK only builds out 30 GWh of gigafactory supply, while non-tariff barriers with the EU moderately increase from the middle of the decade. Under this scenario, the sector recovers from Covid-19 and then largely stagnates, with substantial jobs lost over time.
And in the worst-case scenario, the UK's only builds one additional gigafactory. That leaves total supply under 15 GWh and so fails to make the transition away from internal combustion engines.
As a result, around 90,000 jobs are lost, with the majority of these concentrated outside of London and the South East, further increasing regional inequality.
Here's the 12-point plan:
Technology & Innovation
Commit to creating 60 GWh of battery production within the UK via gigafactories by 2030.
Support development of a fuel cell gigafactory with 2GWh capacity to support cars, heavier vehicles and rail units by 2030.
Roll out a comprehensive and long-term skills strategy that supports auto needs combined with piloting greater flexibility in the Apprenticeship Levy to support retraining.
Commit to the UK becoming a global leader in developing, testing, trialling and deploying Connected and Automated Vehicle (CAV) technology.
Manufacturing Competitiveness
Introduce a new 'Build Back Better Fund' to support good manufacturing jobs for the future and help lower manufacturing costs such as energy.
Allow net zero critical industries, such as manufacturers of low carbon, hydrogen and battery vehicles, to access the same benefits and compensation schemes as energy intensive industries and get more support within the UK Emission Trading Scheme (ETS).
Fund trial and demonstration projects to explore the use of hydrogen during manufacturing.
Ensure the UK tax system helps position Britain as an attractive destination for global investment.
Consumer, Market & Trade
Develop a holistic infrastructure strategy to ensure that at least 2.3 million public charging points are in place by 2030.
Commission an independent review to holistically consider the long-term future of fuel duty and CO2 based taxes like vehicle excise duty in a decarbonised sector.
Continue Plug-in Vehicle Incentives beyond their current term and exempt Ua Low Emission Vehicles from taxation for the next five years
Work with the industry to develop an ambitious, forward looking trade strategy, which targets the sector's most important markets.
CC Capital Partners have announced that they don't plan to bid for IWG, following reports of talks between the two over a potential £4bn deal.
In a statement to the City, they say:
CC Capital Partners LLC ("CC Capital") notes the recent press speculation regarding a potential offer for IWG PLC ("IWG"). CC Capital confirms that it does not intend to make an offer for IWG.
This has knocked IWG's shares back – they've now up 2.4% today.
Shares in IWG, the serviced offices operator, have jumped 7% this morning on reports that it is the latest UK company to attract the interest of private equity.
Sky News reported last night that IWG, formerly called Regus, had held talks with CC Capital about a possible bid.
Sky's Mark Kleinman said:
IWG, the world's largest serviced office group and rival to WeWork, has been in secret talks about a potential takeover offer that could value the company at more than £4bn.

Sky News has learnt that CC Capital, a New York-based private equity firm, has held discussions with Regus-owner IWG about a prospective bid in the last month.

One property industry source said that any offer would need to be lodged at a "very significant" premium to IWG's current share price to stand a chance of being recommended by the company's board.

On Monday, shares in the company closed down 2.3% on the day at 300.2p, giving it a market capitalisation of about £3.1bn.

Factoring in a conventional private equity premium implies that a successful offer would need to be worth at least £4bn.
IWG is hoping to benefit from the move to hybrid working, where employees split the week between their home and an office desk, but not necessarily inside their corporate headquarters.
The company warned earlier this month that its recovery was being slowed by the ongoing lockdowns and new Covid variants.
Shares have risen to 322p this morning, still more than a quarter below their pre-pandemic levels.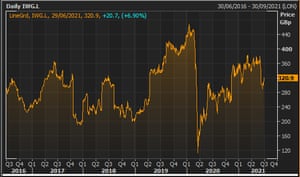 Russ Mould, investment director at AJ Bell, says:
Bid chatter pushed up shares in serviced officer provider IWG, best known for its Regus brand.

Rumours suggest interest from private equity, coming at a time when many companies are deciding they want more flexibility with where their staff work, and so serviced office space is one alternative to owning office blocks that may no longer be fully occupied."
In the City, the FTSE 100 index has risen 25 points in early trading to 7089, up 0.35% – recovering some of yesterday's 63-point drop.
Online grocery technology firm Ocado are the top riser (+2.4%), followed by housebuilder Persimmon (+2.3%) and Barclays bank (+2.4%).
But mining companies are weaker, with Anglo American down 1.7%.
UK house prices are also being propped up by low supply of properties on the market.
Jonathan Hopper, CEO of Garrington Property Finders, says the surge in prices is exacerbating this problem — people are worried about putting their home on the market and getting offers, without having secured somewhere to move to.
Recent months have seen particularly strong price growth – prices are up almost 5% since March.

"And yet this may prove the high tide mark for the exceptional inflation seen over the past year. With the Stamp Duty holiday due to start tapering away from this Thursday, buyers are likely to become less frantic in their desire to complete purchases as quickly as possible.

"Ironically, the fast pace of the market has been partly responsible for throttling back supply and thus stoking price rises – as some would-be sellers hold off on entering the market for fear of their home selling before they find a suitable new home to move to.

"Once supply starts to improve, the market should regain a better sense of equilibrium and price inflation will cool. The current pace of house price rises is clearly unsustainable as wages aren't growing nearly fast enough to keep up.

"But with demand so strong and cheap mortgages helping buyers absorb some of the rising costs, market conditions are unlikely to change dramatically in the short-term.":
Martin Beck, senior economic advisor to the EY ITEM Club, argues that house prices could well keep rising, even once the stamp duty holiday ends.
Beck says a "cocktail of forces" have propelled demand, including the extension of the stamp duty holiday, low borrowing costs, the 'substantial savings' built up by some families in the lockdown, and the fact that older, higher-paid workers were less affected by pandemic job losses.
Most of these factors will persist for some time, Beck explains.
Plus, the government's new mortgage guarantee scheme may fuel expectations that policymakers won't allow prices to fall, as it now effectively has a stake in the market.
Here's his take on today's house price report:
The latest numbers from Nationwide showed house prices rising a further 0.7% in June. This lifted the annual increase to 13.4%, the highest since November 2004. A boost to demand from buyers rushing to beat the phasing out of the stamp duty holiday no doubt played a role in pushing prices up.
The withdrawal of the tax concession should, all else equal, cause prices to fall. But other forces will work in the opposite direction, at least in the short term. The impact of the pandemic on the economy continues to fall disproportionately on younger age groups more likely to rent than own and this, in turn, is likely to insulate the housing market. The burden of mortgage interest payments relative to incomes is currently hovering around a record low. And the substantial savings accumulated by some households during lockdowns offers the means of funding bigger deposits.
The outlook for prices faces some headwinds. The supply of properties may be boosted if the end of the evictions ban on 31 May prompts some landlords to sell, or if claims of a decline in the numbers of foreign workers in the UK post-pandemic prove correct. Higher inflation and the risk of a rise in unemployment when the furlough scheme ends also mean the outlook for growth in household incomes is not all positive. But for the time being, the housing market is likely to continue to stay on the upside.
Guy Harrington, CEO of residential lender Glenhawk, fears the UK housing market is heading for a correction:
"This is only going to end one way. Given the economic backdrop and with government support schemes ending in a few months, this insane level of growth is long overdue a correction.

In some rural hotspots houses are selling for 40% over the asking price. The UK housing market has a rocket attached that is burning low on fuel and once this perfect storm passes, we are headed for a serious shock to the system."
The surge in UK house prices makes it harder and harder for first time buyers to find the deposit they need to get onto the housing ladder.
That's because prices are rising much faster than wages, as this chart shows, meaning that typical 10% deposit required by lenders is swelling too.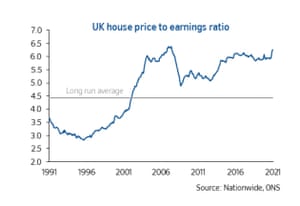 Nationwide points out this means it would take five years for someone on the average wage, and saving 15% of take home pay, to raise the average 10% deposit.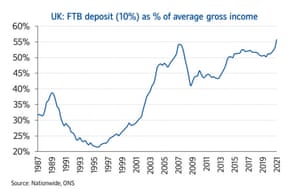 Conversely, if you have a mortgage, record low interest rates mean repayment rates are not at historic high levels.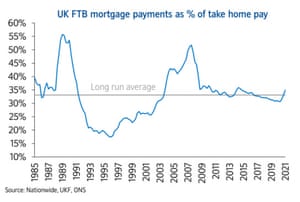 Nationwide's chief economist Robert Gardner explains:
"Despite the increase in house prices to new all-time highs, the typical mortgage payment is not high by historic standards compared to take home pay, largely because mortgage rates remain close to all-time lows – in fact, on this measure affordability remains broadly in line with its long run average.

"However, house prices are close to a record high relative to average incomes. This is important because it makes it even harder for prospective first time buyers to raise a deposit. For example, a 10% deposit is over 50% of typical first time buyer's income. A potential buyer earning the average wage and saving 15% of take home pay would now take five years to raise a 10% deposit.

"The improving availability of mortgages for those with a small deposit (and the continued availability of the government's Help to Buy equity loan scheme) is helping some people over the deposit hurdle, but it is still very challenging for most.
Good morning, and welcome to our rolling coverage of the world economy, the financial markets, the eurozone and business.
UK house price inflation has hit its highest level since 2004, in the last scramble to take advantage of the full stamp duty holiday.
Mortgage lender Nationwide reports this morning that annual house price growth hit 13.4% this month, the highest level since November 2004.
On a monthly basis, prices rose by 0.7% during June, lifting the average price to £245,432 on Nationwide's index.
That's a slowdown on May's 1.7% surge, but still means annual price inflation is the highest in over 16 years.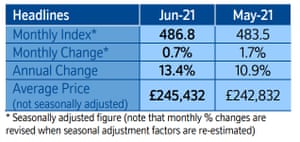 That partly reflects the weakness of the market a year ago, during the first wave of Covid-19. But it also reflects the rush to buy as the end of the stamp duty holiday nears (the threshold halves to £250,000 on 1 July in England and Northern Ireland, while in Wales the tax break on purchases up to £250,000 ends).
Robert Gardner, Nationwide's Chief Economist, explains:
While the strength is partly due to base effects, with June last year unusually weak due to the first lockdown, the market continues to show significant momentum.

Indeed, June saw the third consecutive month-on-month rise (0.7%), after taking account of seasonal effects. Prices in June were almost 5% higher than in March.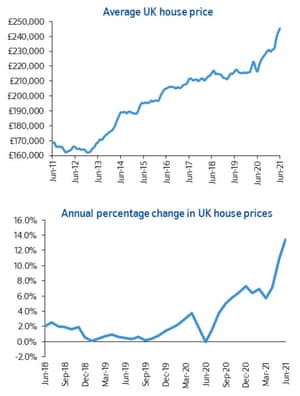 But Gardner also warns that the outlook for the housing market is harder to assess, once the stamp duty tax holiday ends
"Underlying demand is likely to remain solid in the near term as the economy unlocks. Consumer confidence has rebounded while borrowing costs remain low. This, combined with a lack of supply on the market, suggests further upward pressure on prices. But as we look toward the end of the year, the outlook is harder to foresee.

"Activity will almost inevitably soften for a period after the stamp duty holiday expires at the end of September, given the strong incentive for people to bring forward their purchases to avoid the additional tax.

Nevertheless, underlying demand is likely to soften around the turn of the year if unemployment rises as most analysts expect, as government support schemes wind down. But even this is far from assured. Even if the labour market does weaken, there is also scope for shifts in housing preferences as a result of the pandemic to continue to support activity for some time yet.
Nationwide's report also shows that all parts of the UK saw an acceleration in annual house price growth in the last quarter.
Northern Ireland and Wales saw the largest gains, at 14% and 13.4% respectively in Q2. By contrast Scotland saw the weakest rate of annual growth, at 7.1% closely followed by London at 7.3%.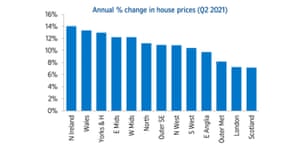 Gardner points out that the Scottish Government ended its stamp duty holiday at the end of March, meaning the market may have cooled.
"Northern Ireland was the strongest performing region, with prices up 14% year-on-year, the highest rate of growth since 2007. Wales also saw a significant acceleration in annual house price growth to 13.4%, the largest rise since 2005.

But conditions were more muted in Scotland, which saw a modest increase in annual growth to 7.1% (from 6.9% last quarter) and was also the weakest performing part of the UK. This may reflect that the stamp duty (LBTT) holiday in Scotland ended on 31 March.

"England saw annual house price growth increase to 9.9%, from 6.4% in the first quarter of the year.
Reaction to follow….
The agenda
Today: SMMT holds its International Automotive Summit 2021
9.30am BST: UK mortgage approvals and consumer credit figures for May
10am BST: BEIS Committee hearing into the financial relationships of GFG Alliance and Liberty Steel
10am BST: Eurozone consumer and business confidence figures for June
2pm BST: US house price figures for April
2.40pm BST: ECB president Christine Lagarde speaks at the Brussels Economic Forum 2021