Dapatkan promo member baru Pengeluaran SGP 2020 – 2021.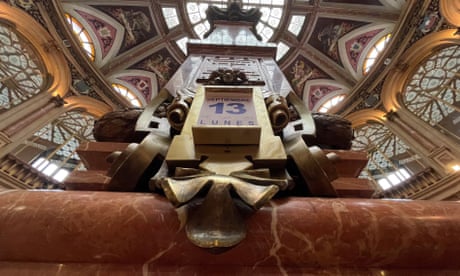 Deutsche Bank's survey also found that few global investors expect new full-scale lockdowns before the end of the year.
Around 44% expect restrictions to remain roughly as they are, and a third expect some further restrictions: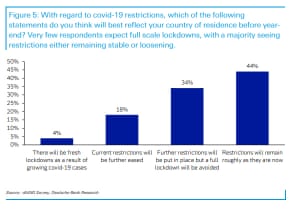 Many investors are now expecting an equity market correction of up to 10% by the end of the year — as caution over the bull market rally growth.
Deutsche Bank's latest survey of over 550 market professionals across the world, published this morning, has found that 58% expect a correction of between 5% and 10% by the end of 2021.
One in ten are bracing for a steeper selloff, while nearly a third think the markets will reach 2022 without a tumble.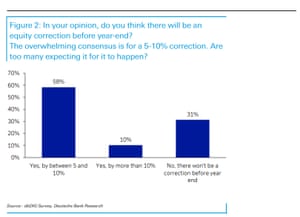 2021 has been a very strong year for the markets, with America's S&P 500 up over 18% since the start of January, and Europe Stoxx 600 gaining 17%. The UK's FTSE 100 has lagged, but is still up over 9%.
Central bank stimulus, government spending, and optimism that vaccines will spur a strong recovery have helped global markets almost double since the crash of March 2020.
A 10% correction would still leave most of the pandemic-gains intact, after a rally which has pushed stock-market valuations very high on most historical measures.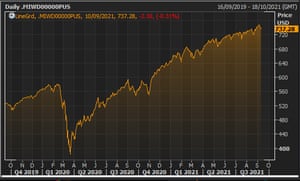 The risk of new variants of Covid-19 that bypass vaccines is the biggest risk to market stability, Deutsche Bank's survey found. However, the vast majority of respondents expect that current dose vaccines will still prevent at least severe cases of Covid.
That's followed by concerns about rising inflation, a weaker-than-expected recovery, and worries that central banks could make a policy error (such as ending stimulus too quickly).
Geopolitics, the risk of a tech bubble bursting, and rising debt burdens also feature on the list of concerns: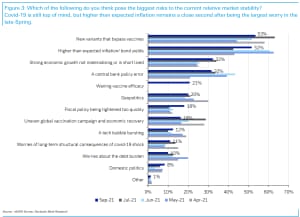 Looking ahead, a net 14%* of investors predicted that the S&P 500 index will be higher in 3 months, the second lowest reading in a year [* showing that more expect it to be higher, rather than lower].
And they remain optimistic about the longer-term, with a solid majority expecting US and European equities to be higher in a year (a net balance of over 40%)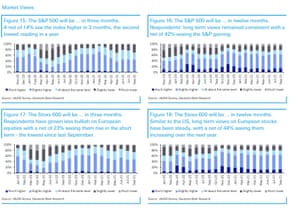 Marketwatch published a good piece on this issue over the weekend – here's a flavour:
Stock-market valuations are "historically extreme" by almost every measure. And while valuation corrections don't necessarily result in market pullbacks, the risk of a "hard" correction is growing, warned a top Wall Street strategist.

"With the current cycle advancing very quickly, the risk that the correction is hard is growing," wrote Binky Chadha, chief strategist at Deutsche Bank, in a Thursday note.

The warning comes as Wall Street firms have expressed nervousness as equities continue to rally, pushing major indexes to all-time highs, without any significant pullbacks. Including Friday, the S&P 500 has gone 214 trading days without a 5% pullback, rising more than 33% over that stretch. That's the longest run without a pullback since a 404-day run that ended on Feb. 2, 2018, according to Dow Jones Market Data.
More here: Risk of 'hard' stock-market valuation correction is growing, says Deutsche Bank — here's why
Visits to UK retail destinations fell by 4.2% last week, as the end of the summer holiday break hit shopping.
Retail tracking group Springboard reports that footfall fell particularly sharply in coastal areas, which had received a boost from domestic tourists.
The greatest declines occurred in shopping centres that saw a decline of -7.7%, and retail parks that saw a decline of -4.7%, whilst footfall dropped by -2.2% in high streets
Whilst footfall dropped by -10.4% in coastal towns, it rose by +2.6% in market towns and in by +3% in Outer London
Across Central London as a whole footfall dropped by -7.8% but Springboard's "Central London Back to Office Footfall Benchmark" showed a rise in footfall of +4.2%
Diane Wehrle, Insights Director at Springboard, explains:
"If any evidence is required as to the relevance of footfall as an indicator of consumer activity it was provided by the results for last week; the commencement of the school term and the return to work of those who had been on holiday led to a decline in footfall across all retail destinations last week from the week before, with a far greater drop in activity in coastal towns which had been visited by many for staycations and daycations over the summer.

In contrast, footfall rose from the week before in both Outer London town centres and in Market Towns whilst declining in both Central London and in regional cities outside of the capital, demonstrating that the majority of employees continue to work from home.

Working at home is clearly supporting high streets generally, with a decline in high street footfall across the UK last week from the week before that was less than a third of that in shopping centres and half that in retail parks.
There are also signs that the drift back to offices might have commenced, Wehrle adds:
Springboard's "Central London Back to Office Footfall Benchmark" (which comprises only those locations in areas with offices rather than retail) showed a rise in footfall last week from the week before whilst across Central London as a whole footfall declined."
Shares in the Chinese technology company Alibaba have fallen sharply after reports said regulators wanted to break up Alipay, the payments app with more than 1 billion users owned by Jack Ma's Ant Group.
Beijing is seeking to create a separate app for the company's highly profitable loans businesses, in the latest crackdown on China's technology sector by the state's authorities.
Chinese regulators are reportedly concerned at the financial risk building in the economy; Alipay's loans business helped issue about 10% of the country's non-mortgage consumer loans last year.
Regulators have already ordered Ant Group to separate the back end of its two lending businesses, Huabei and Jiebei, from the rest of its financial offerings.
Beijing wants the two businesses to be split into a separate independent app, while also requiring Ant to share user data to a new credit-scoring joint venture that would be partly state-owned, according to the Financial Times. State-owned companies in Ant's home province, including the Zhejiang Tourism Investment Group, would hold a majority stake in the new joint venture.
The news sent shares in Alibaba down as much as 6% in trading on Monday as the wider Hang Seng Tech index, which tracks China's biggest tech groups listed in Hong Kong, fell more than 3% over investor concerns about the latest crackdown.
Here's the full story:
The trade barriers that made the import of Marks & Spencer's Percy Pig sweets one of the first casualties of Brexit has added an extra £600m in costs to British importers since January, it has emerged.
Customs duties paid by UK businesses shot up from £1.6bn in the first half last year to a record £2.2bn in the same period this year, according to an analysis of HMRC data.
Percy Pig sweets were among 2,000 food product lines that were hit by "rules of origin" regulations that came into force with the Brexit trade deal on 1 January.
In January M&S raised the prospect of Percy Pigs being subject to tariffs in Northern Ireland because of the rules of origin. Although manufactured in Germany, they were first brought to the UK before being re-exported to Ireland – a journey that would now be subject to import taxes because the tariff exemption in the trade fell away as soon as they were re exported.
The scale of the impact of these complicated rules on importers is only emerging now and gives the lie to the notion that a free trade deal is cost-free to business.
Since then thousands of businesses have found they have to pay taxes if the product they are importing under the trade and cooperation deal is not sufficiently manufactured in the EU.
Trade bodies are reporting that some companies find the rules so complicated that they end up just paying the customs duties for ease of trading….
Here's the full story: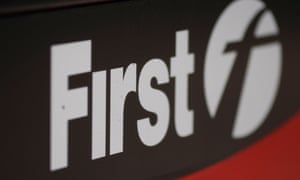 Despite the ongoing pandemic, transport operator FirstGroup has reassured investors that trading this year is in line with forecasts (helping push its shares up 3.7%).
It reports that passenger volumes at its First Bus division have reached 65% of pre-pandemic levels on average in recent weeks, and it expects a further pick-up as the autumn terms for schools and then universities get fully underway.
Here's some analysis from AJ Bell investment director Russ Mould:
"While the 'Back to School' and end of summer vibe may be a bit of a downer for some, it will definitely put a smile of the face of transport operator FirstGroup as it looks for bus passenger volumes to creep back towards pre-Covid levels.

"The return of schools and universities will be expected to drive up the number of people using the bus and it is reassuring that the company feels able to maintain its full year guidance.

"The divestment of First Group's US school bus and contract transport operations created controversy, with some believing the assets were sold off on the cheap, but the transaction has at least enabled the company to return capital to shareholders.

"Next on the agenda is a sale of the non-core Greyhound intercity bus franchise and management is under pressure thanks to activist investor Coast Capital's sizeable stake in the business. This pressure is unlikely to let up too much despite the departure this month of FirstGroup CEO Matthew Gregory.

"A more streamlined business might interest bidders after FirstGroup fought off interest from private equity firm Apollo in 2018.

"In the meantime, the company is pushing its ESG credentials hard, gaining an endorsement of sorts through the recent agreement of a sustainability-linked credit facility and aiming to bolster its green credentials further with its new Lumo London-to-Edinburgh rail service. This is being pitched as the lower cost alternative to flying with plant-based food on the menu and carbon calculations published for passengers."
Shares in travel stocks have rallied a little this morning, after the UK health secretary said he hopes to scrap PCR tests for foreign travel as soon as possible.
Sajid Javid told Sky News on Sunday that the testing measures should not be in place "for a second longer than is absolutely necessary", so he has asked officials to remove the PCR rule "at the moment we can".
Those PCR tests have increased the cost (and hassle) of going on holiday this summer, with holiday firms unhappy that the costs of tests are too high.
Javid also announced yesterday that plans to introduce vaccine passports for access into nightclubs and large events in England will not go ahead, although some Conservative MPs fear they could yet be introduced….
This morning, travel operator FirstGroup are leading the risers on the FTSE 250 index of medium-sized firms, up 3.7%, after it also told shareholders that trading was on track (more in a moment on that).
WH Smith, which operates retail outlets at travel hubs, are up 3%, with ticketing company Trainline gaining 1.9%.
Airlines are also getting a modest lift. EasyJet are up 2.3% (its share price having adjusted down to account for the £1.2bn rights issue announced last week). Wizz Air, whose takeover approach to easyJet was recently rejected, are up 1%.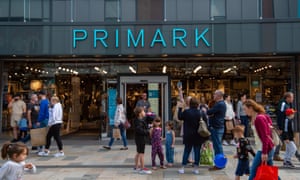 Shares in Primark's owner Associated British Foods have fallen almost 4%, after reporting that sales over the summer were hit by the 'pingdemic'… and flagging supply chain problems too.
Primark's UK sales were affected by the "rapid and significant increase" in people self-isolating due to contact tracing alerts in late June and early July, the company says in a trading update ahead of its full year results.
It predicts that Primark's like-for-like sales over the quarter to September 18th (next Saturday) will be 17% lower than the same period two years ago, explaining:
Our sales in the fourth quarter were affected by the impact on footfall as a result of the changes in public health measures in our major markets to control the spread of COVID-19 and its Delta variant in particular.

Trading in the fourth quarter varied considerably across the estate with a big impact in our major markets of the UK and Spain.
Trading did picked up in August as restrictions were eased, ABF says. As a result, like-for-like sales improved steadily though the last quarter, from a decline of 24% in the first four weeks of the quarter to a decline of 8% in the last four weeks.
But this is still much weaker than the previous quarter (ABF's Q3), when sales were 3% ahead of the comparable period two years as people rushed back to the high street as shops reopened.
ABF also reported that it is experiencing some delays to the handover of some autumn/winter inventory, caused by "port and container freight disruptions".
But finance director John Bason has told Reuters that Primark stores had plenty of stock.
"Is it easy in the supply chain? No…but it's about delays rather than cancellations,"

"All stores got this early autumn stock, we're fully stocked and ready for the season, there will be no shortages."
Shares in French pharmaceutical company Valneva have slumped around 40% in early trading, after it said the UK government is pulling out of a deal to purchase its Covid-19 vaccine.
My colleague Jamie Grierson explains:
The treatment is being manufactured at the company's site in Livingston, West Lothian, in Scotland, which was visited by the prime minister, Boris Johnson, in January.

About 100m doses of the yet-to-be-approved vaccine were put on order after the UK increased its request by 40m in February.

But in a U-turn, the government has served notice to terminate the contract over allegations of a breach of the agreement.

The company said: "Valneva SE, a specialty vaccine company, today announced that it has received a termination notice from the UK government (HMG) in relation to the supply agreement for its Covid-19 vaccine candidate, VLA2001.

"The contract provides HMG with the right to terminate. HMG has alleged that the company is in breach of its obligations under the supply agreement, but the company strenuously denies this."
Here's the full story:
Valneva's shares tumbled almost 45% at the open, and are currently down over 36% – having surged over the last month.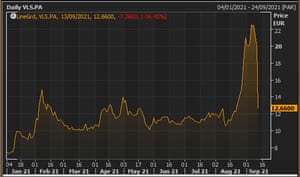 European stock markets have opened higher.. despite those concerns about the recovery and rising prices.
The FTSE 100 has gained 30 points, or 0.4%, to 7060 points.
Royal Mail (+1.86%) is leading the risers, with housebuilders and banks also picking up.
That leaves the blue-chip FTSE 100 index down around 0.8% so far this month (but around 9% higher this year).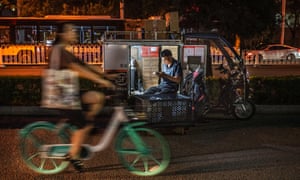 China took another step towards reshaping its online businesses last last week, by demanding better protection of gig economy workers' rights.
On Friday, Chinese government officials instructed leading delivery and ride-hailing companies to improve how they distributed incomes and ensure rest periods for workers.
The move followed a meeting between government agencies and major platform companies, including Meituan, Alibaba and Tencent, in the ongoing push against Internet firms.
Jim Reid of Deutsche Bank says:
A statement from China's Ministry of Human Resources and Social Security said that China's Major platform operators must review the working conditions of gig economy workers that rely on their platforms to ensure their income rights and safety.

These measures mark the latest salvo in the ongoing Chinese regulatory crackdown and are weighing on the broader market.
Beijing's move to rein in Alipay will fuel worries about China's economy slowing, says Kyle Rodda of IG:
The sense right now, in an outlook for the short-term that appears to be becoming consensus, is that the global growth story is at an impasse, limited by the pandemic supply shock, as raising costs for businesses simultaneously limit economic activity as well as policymakers' ability to address marginally weaker growth.

That macro fear in broader markets has been compounded by regional issues today surrounding China's reform of its private sector, with news this that Chinese authorities will break-up Ant Group's Alipay stoking anxiety about the extent of China's restructuring of its economy, as it too slows.
Jeffrey Halley of OANDA agrees that the clampdown is adding to market jitters:
Typhoon Chanthu is bearing down on Shanghai, forcing the closure of schools, ports and flight cancellations and may mute activity on Mainland markets today. Grabbing attention, though, is a Financial Times story stating that China's government intends to break up Alipay, owned by Ant Group.

Shares in Alibaba Group Holdings, listing in Hong Kong, have opened substantially lower, taking the Hang Seng with them. As I said last week, buying the dip in China equities in this environment remains akin to catching a very sharp falling knife.
Technology shares in China have fallen today on reports that Beijing wants to break up Alipay, the 1bn plus-user superapp owned by Jack Ma's Ant Group.
According to the Financial Times, China wants to create a separate app for the company's highly profitable loans business, in the most visible restructuring yet of the fintech giant.
The size of the unit, which helped to issue about one-tenth of the country's non-mortgage consumer loans last year, has reportedly surprised regulators who are concerned about financial risks building in the economy, and the risk of predatory lending and financial risk.
The plan would also see Ant share the user data that underpins its lending decisions to a new credit scoring joint-venture which will be partly state-owned, according to two people familiar with the process.
One person close to financial regulators in Beijing told the FT:
"The government believes big tech's monopoly power comes from their control of data.

"It wants to end that.
Here's the top line from the FT::
Chinese regulators have already ordered Ant to separate the back end of its two lending businesses, Huabei, which is similar to a traditional credit card, and Jiebei, which makes small unsecured loans, from the rest of its financial offerings and bring in outside shareholders.

Now officials want the two businesses to be split into an independent app as well.

The plan will also see Ant turn over the user data that underpins its lending decisions to a new credit scoring joint-venture which will be partly state-owned, according to two people familiar with the process.

"The government believes big tech's monopoly power comes from their control of data," said one person close to financial regulators in Beijing. "It wants to end that."

The move may slow down Ant's lending business, with the enormous growth of Huabei and Jiebei partly powering its planned IPO last year. The CreditTech unit, which includes the two units, overtook Ant's main payment processing business for the first time in the first half of 2020, to account for 39 per cent of the group's revenues.
The news has knocked technology shares, with the Hang Seng Tech Index falling over 3%.
Alibaba, which owns around a third of Ant Group, are down over 5%, extending its recent losses as China has cracked down on the tech sector.
Today's news comes almost a year after China dramatically suspended the planned $37bn stock market flotation of Ant Group, which had been set to become the world's largest IPO ever.
Good morning, and welcome to our rolling coverage of the world economy, the financial markets, the eurozone and business.
The markets are starting the new week worrying about growth prospects and inflation, the possible scaling back of central bank stimulus package loom, and China's ongoing technology crackdown.
Wall Street ended last week in the red, with the S&P 500 finishing at its lowest level in almost three weeks. That's fed through to some Asia-Pacific markets, with Japan's Nikkei dipping 0.2% and China's CSI 300 down 0.75%.
With jobs growth slowing in the US, the UK economy barely growing in July, and prices pushing higher, the economic picture is looking less rosy than earlier this summer.
As Michael Hewson of CMC Markets explains:
For US investors the main concern appears to be a slowing economy coming at a time when inflation appears to be showing little sign of slowing down, and after US PPI for August saw yet another record high in data released at the end of last week.

With the US Federal Reserve due to meet next week, and the narrative clearly moving towards a tapering of asset purchases sooner rather than later, there appears to be a build up in anxiety that the continued rise in inflationary pressure may well be much more persistent than central bankers would have us believe, with the resultant rise in yields and rebound in the US dollar.

While factory gate prices appear to be showing no sign of slowing down, in the US, as well as China where authorities released strategic reserves in an attempt to keep a lid on crude oil prices, after PPI hit a 13 year high, there is a fear that rising CPI will continue to heap pressure on consumer spending, and act as an additional drag on economic growth.
Slowdown fears are weighing on some commodity prices, with iron ore weaker…
… but supply concerns have driven aluminium to another 13-year high.
Later today we'll hear from the head of Britain's Trade Union's Congress, at its annual gathering.
Last week, Frances O'Grady warns that a "chasm" between low-paid workers and the better-off had been created by Covid-19, with low earners rarely able to work from home or enjoy sick pay, while better-off workers enjoyed work flexibility, financial stability and increased spending power.
"A Covid chasm has opened up between low paid and average paid workers and the better off. It feels like that divide is really sharp.

"Politicians need to start addressing how to close that chasm. That's important not just for working families but for the economy. We hear a lot about levelling up but if it is not about workers' rights, their bargaining power and their pay then what is it about?"
The agenda
10am BST: Second day of TUC's annual Congress begins
4pm BST: US consumer inflation expectations for August