Jackpot hari ini Result Sidney 2020 – 2021.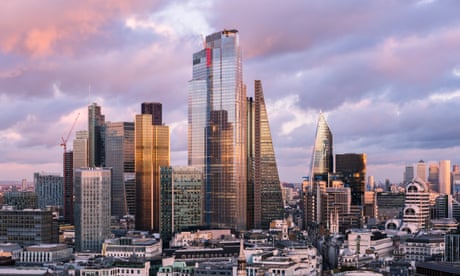 Oil is moving higher, with Brent crude now up over 1% to almost $68 per barrel (having fallen from $69 to $67 yesterday).
On the smaller FTSE 250 index, Sanne Group is leading the risers – leaping over 20%, after becoming the latest UK firm to receive a takeover approach.
Sanne, an alternative asset and corporate services business, has rejected the £1.35bn buyout offer from private equity firm Cinven, saying it was "opportunistic" and "significantly undervalues" the company.
Cinven's offer was worth 830p in cash, compared to last night's closing price of 603p. Shares in Sanne have jumped to 729p so far today.
Cinven now has until 11 June to make a firm offer, or walk away.
Its the latest in a string of offers for UK firms — last week alone we saw approaches to infrastructure firm John Laing and property developer St Modwen.
The Financial Times says:
Cinven's approach marks the latest example of a UK-listed company that has drawn interest from a private equity buyer, at a time when UK equities are relatively cheap amid the fallout from the pandemic and uncertainty surrounding Brexit.

On Wednesday, US buyout firm Clayton, Dubilier & Rice agreed to acquire UDG Healthcare for £2.61bn in cash, while last week Blackstone made a £1.2bn approach to buy St Modwen Properties, a logistics and housing developer.

Other UK-listed groups approached by private equity firms this year include pub chain Marston's, power supplier Aggreko and private jet services company Signature Aviation.
UK accountancy software firm Sage is the top FTSE 100 riser, up 3.3% so far, after beating forecasts this morning, with a 4.4% rise in organic recurring revenue.
Sage also reassured the City by reporting that its move towards cloud computing was on track, helping it win customers.
Revenues from 'native solutions' (apps that live in the cloud) were up 36% in the last six months (to the end of March) as it wins new customers, and migrates existing ones.
Sage also lifted its revenue guidance:
Following a strong performance in the first half, we now expect organic recurring revenue growth for FY21 to be towards the top end of our guidance range of 3% to 5%.
However, on a statutory basis, revenues fell 4% in the last six months while pretax profits fell over 30% to £190m, with Sage's profit margins being squeezed by extra investment in the move to cloud.
Sage, based in Newcastle upon Tyne, was created back in 1981, selling accountancy, payroll and other enterprise software.
AJ Bell investment director Russ Mould explains why its move to the cloud is a challenge:
Historically Sage was a 'steady-eddy' business built on a license sales model, where most of the contracted cash came up front with high margin servicing and maintenance income rolling in over the term of the contract.

"In recent times its market has been disrupted by cloud computing as clients look to access applications on any internet-enabled device and this has led to volatility in the share price.

"Even if users stick with Sage's cloud offering, the shift away from licences typically diminishes upfront revenue and cash flow, and requires significant investment.

"This in turn drags down growth rates in the near term even if it produces a typically reliable subscriptions-based income stream over time.

"Plus Sage operates in a competitive marketplace and has plenty of rivals who were 'born in the cloud' and therefore don't face the same painful metamorphosis it does.

"To convince the market it will eventually emerge as a beautiful butterfly of a business, the company needs to show it can improve profitability while continuing to grow its subscription revenue."
Back in the markets, European shares continue to bounce from their losses earlier this week.
The UK's FTSE 100 is holding above the 7,000-point mark, up around 0.66% today. The pan-European Stoxx 600 is up 0.5%, with gains on France's CAC (+0.66%) and Germany's DAX (+0.5%).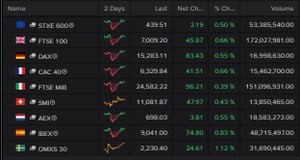 But the mining stocks are still lower, with Rio Tinto (-2%), Antofagasta (-1.8) and BHP Group (-1.4%) being hit by the big drop in iron ore prices in China overnight.
Despite today's recovery, the Stoxx 600 is down over 1% this week (having hit a record high on Monday) which would be its worst week since late February.
Reassuring words from central bank policymakers may be helping calm investors, as Neil Wilson of Markets.com explains:
Stocks are higher, recovering some ground lost during a choppy week. Fed officials have been out in force to calm inflation nerves.

Governor Christopher Waller said rates will not rise until policymakers see inflation above target for a long time or there is excessively high inflation, saying the Fed will need to see several more months of data.

He also stressed that there is only a temporary 'mismatch' between surging demand for workers and people's willingness/ability to get a job.
But there are several signs that US firms are struggling to hire. Job growth slowed in April, vacancies hit a record, and McDonalds yesterday said it will raise wages at its company-owned US restaurants by 10%.
Wilson adds:
Wage push inflation is of greater concern than short-term supply chain pressures and rising commodity prices.

The labour market is far tighter than it looks – the Fed will hope that things change quickly once Federal assistance rolls off later in the year. That could see us endure a rough summer of hot inflation readings, with the Fed looking on and hoping it comes to an end in the autumn.
Here's our story on Amazon's plans to hire 10,000 more staff in the UK:
GFG say they will 'co-operate' fully with the Serious Fraud Office's investigation.
It also says its factories are still working around the world, and that it is 'making progress' in its search for new financial backing — following the collapse of Greensill.
A GFG Alliance spokesperson said:
"GFG Alliance notes the UK Serious Fraud Office (SFO)'s announcement that it has opened an investigation into GFG Alliance. GFG Alliance will co-operate fully with the investigation. As these matters are the subject of an SFO investigation we cannot make any further comment.

GFG Alliance continues to serve its customers around the world and is making progress in the refinancing of its operations which are benefitting from the operational improvements it has made and the very strong steel, aluminium and iron ore markets."
The Serious Fraud Office's investigation into the financing of Sanjeev Gupta's metals empire by Greensill Capital will heighten concerns over the future of thousands of UK jobs at Liberty Steel.
My colleague Jasper Jolly explains:
The UK's anti-corruption agency said it suspected fraud, fraudulent trading and money laundering related to the financing of Gupta Family Group (GFG) Alliance, the loose grouping of steel and metals trading companies controlled by Gupta.

It includes its financing arrangements with Greensill Capital UK Ltd, the supply chain finance provider set up by the banker Lex Greensill. Previous court representations have suggested Greensill lent Gupta's companies as much as $5bn (£3.6bn).

Since Greensill collapsed in March, Gupta has been scrambling to secure finance for various parts of the group of companies. Last week GFG was understood to be nearing a deal for a refinancing of Liberty Steel UK, which employs about 3,000 people.
Here's the full story:
The UK's Serious Fraud Office has announced it is investigating Sanjeev Gupta's GFG Alliance and its financing arrangements with Greensill Capital.
GFG Alliance owns Liberty Steel, which employs 3,000 steel workers in the UK. It employs 35,000 people at metalworks across the world.
It was one of the largest borrowers from Greensill, the supply-chain finance company which collapsed earlier this year.
In a statement, the SFO says:
The SFO is investigating suspected fraud, fraudulent trading and money laundering in relation to the financing and conduct of the business of companies within the Gupta Family Group Alliance (GFG), including its financing arrangements with Greensill Capital UK Ltd.

As this is a live investigation, the SFO can provide no further comment.
Pressure has been growing on the SFO to investigate GFG's practices, and the way in which supply-chain financing (or 'reverse factoring') has been used to raise money from invoices.
On Tuesday, the UK's financial regulator said it was "formally investigating" the circumstances leading to Greensill's collapse.
Nikhil Rathi, the Financial Conduct Authority (FCA) chief executive, said some of the allegations facing Greensill were "potentially criminal in nature".
In a letter to the Treasury Committee, he said:
"We are also cooperating with counterparts in other UK enforcement and regulatory agencies, as well as authorities in a number of overseas jurisdictions.
Business secretary Kwasi Kwarteng tweets:
As well as hiring 10,000 more UK staff, Amazon is also spending £10m over the next three years on employee training.
This money will help 5,000 of its staff learn new skills to help them get a job outside Amazon, and "boost the skills and employability of British workers".
The tech giant runs a Career Choice service – which pays 95% of tuition fees for a range of courses (Amazon suggest accountancy, HGV driving, or software development as examples).
Adult education, and lifelong skills, is a serious issue following the pandemic. Economists fear some jobs lost since the first lockdowns will not return, as changes we've experienced under Covid-19 will remain permanent.
Amazon is working with with the British Chambers of Commerce, to identify skills shortages in the UK regions.
Shevaun Haviland, director general of the BCC, says this should help the UK economy recover from the economic:
"This is a great initiative that will not only help Amazon but also provide a much wider benefit to the community, while showcasing how business can be a force for good.

Providing staff with training to plug the skills gaps that exist within the local business community is going to be a key driver to increasing productivity and boosting the economy as the UK recovers from the pandemic."
Jobs news: Amazon is create 10,000 new permanent jobs in the United Kingdom this year, taking its UK workforce over 55,000.
The new roles are split across its corporate offices, Amazon Web Services (AWS) and in its operations arm, as it expands its delivery network.
Amazon says it is opening a new 'parcel receive centre' in Doncaster, Yorkshire, along with new 'fulfilment centres' (warehouses where staff assemble customer orders) in Dartford, in Kent, Gateshead, Tyne and Wear, and Swindon, Wiltshire, each creating over 1,300 jobs.
It's also hiring 700 more staff for a new fulfilment centre in Hinckley, East Midlands.
This will create "thousands of new permanent roles on teams including engineering, HR and IT, health and safety, finance, and those that pick, pack and ship customer orders", the company says.
It's also creating corporate roles in offices in London, Manchester, Edinburgh, and Cambridge. Amazon says it will cover a range of areas, including fashion, digital marketing, engineering, video production, software development, cloud computing, AI and machine learning.
Business Secretary Kwasi Kwarteng has welcomed the move:
"Amazon's announcement today is fantastic news and a huge vote of confidence in the British economy, helping us deliver on our commitment to level up across the UK with a whopping 10,000 new permanent jobs.

As we build back better from the pandemic, this is a prime investment in our retail sector.
Amazon's UK sales soared by 51% last year during the pandemic, to a record $26.5bn (£19.4bn), as the lockdown drove a surge in demand for online shopping as high streets shut down.
But tax campaigners continue to probe the company's corporate set up, as our wealth correspondent Rupert Neate explained last week:
Fresh questions have been raised over Amazon's tax planning after its latest corporate filings in Luxembourg revealed that the company collected record sales income of €44bn (£38bn) in Europe last year but did not have to pay any corporation tax to the Grand Duchy.

Accounts for Amazon EU Sarl, through which it sells products to hundreds of millions of households in the UK and across Europe, show that despite collecting record income, the Luxembourg unit made a €1.2bn loss and therefore paid no tax.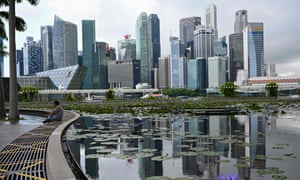 Singapore's stock market fell sharply today, as authorities announced new Covid-19 restrictions following a rise in cases.
The new measures limit social gatherings to two people, down from five, reimpose a bans on dining at restaurants, and urge people to work from home.
It comes after Singapore reported 24 new local cases of Covid-19 on Thursday, the highest number since July last year.
The South China Morning Post has the details:
Singapore now has 12 active clusters and has already recorded 112 domestic infections this month, compared to 55 cases in April and just nine in March.

Health minister Gan Kim Yong said it was "almost impossible" to completely eradicate the virus and "we will have to learn to live with it".
Lawrence Wong, the minister for education who co-chairs Singapore's coronavirus taskforce, said it was "clearly a setback in our fight against COVID-19".
The Straits Times Index of leading shares is down by 2.6% in afternoon trading, while Singapore Airlines slumped 6%, on concerns that a planned air bubble with Hong Kong that was due to begin later this month could be delayed.
Our main Covid-19 liveblog has all the latest:
In London, the FTSE 100 has risen back to the 7,000 mark in early trading.
The blue-chip index of leading shares is up 44 points, or 0.6%, at 7007 points.
Investors seem to be a more optimistic mood, after a rough week which saw the Footsie briefly hit a five-week low yesterday, before rebounding.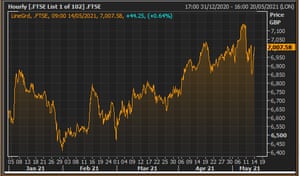 But mining stocks are dragging on the index, hit by the drop in commodity prices.
Rio Tinto (-3%) are the top faller, followed by copper producer Antofagasta (-2.8%), then BHP Group (-2.2%) and Glencore (-1.5%).
Asia-Pacific stock markets have bounced back today, as the recovery on Wall Street last night lifted spirits.
Japan's Nikkei jumped 2.3%, after three days of heavy losses.
South Korea's KOSPI gained 1%, lifted by the news that Samsung Electronics and SK Hynix pledged to invest tens of billions more in their semiconductor production and development.
Australia's S&P/ASX 200 finished 0.5% higher, with mining stocks held back by the drop in commodities.
Kyle Rodda of IG says the markets finished a turbulent week on a positive note.
Stocks are broadly higher, in a move that's pretty unconvincing at the moment, but speaks of a market willing to give risk-assets another crack.

Bond yields are easing back off their highs, along with implied measures of inflation. While perhaps most conspicuously, commodity prices are down right across the board, and subsequently helping ease inflation fears, with a lot of that coming as traders back-off buying commodities as speculation mounts that the Chinese government is preparing to crack-down harder on surging prices.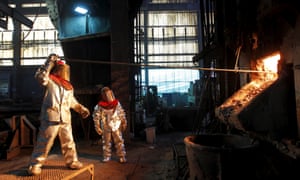 Copper prices are on track for their first weekly loss in a month, Reuters says.
Having hit record highs on Monday, the copper price has dipped back, down 1.8% earlier this morning, and around 2.5% down for the week.
It's still extremely high, with three-month copper on the London Metal Exchange trading over $10,100 per tonne in London (levels last seen in the 2011 commodities boom).
But Reuters flags that worries of tightening credit could potentially cap demand:
"Supply will improve, while we note credit impulse data in the United States and China is easing, which will help demand taper off later this year and next," said Fitch Solutions in a report.

"Metal prices will ease later in the year as the ongoing supply-demand mismatch eases."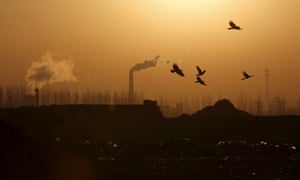 Good morning, and welcome to our rolling coverage of the world economy, the financial markets, the eurozone and business.
Inflation fears are easing today as commodity prices fall back from their recent peaks.
In China, iron ore futures have tumbled for the second day running, down over 9%, with steel prices also sliding on signs of a clampdown by Chinese authorities.
Prices dropped after officials in the city of Tangshan, a key steel producer, warned factories to maintain market order.
They warned that any factories engages in illegal acts — such as collusion, manipulating prices, fabricating information, hoarding or driving up prices — would be "strictly investigated and dealt with in accordance with laws and regulations."
If the circumstances are serious, it shall be ordered to suspend business for rectification, or its business license shall be revoked and publicly exposed.
This knocked steel prices by around 6%, with traders also anticipating weaker demand for iron ore and coke.
Other commodity prices are also cooling, with copper dipping back from its record highs.
Oil is also weaker, with crude prices dropping the most in a month yesterday. Brent crude is back below $67 per barrel, for the first time since the start of May.
So after a turbulent week dominated by worries about inflation, the markets seem to be finishing on a calmer note today.
Wall Street rallied last night, and European markets are expected to make gains this morning.
Yesterday, Bank of England governor Andrew Bailey tried to calm anxiety about rising prices, after US inflation hit a 13-year high last month.
"So the really big question is, is [higher inflation] going to persist or not? Our view is that on the basis of what we're seeing so far, we don't think it is."
US central bank policymakers have also been insisting that they're in no hurry to raise interest rates.
As Jim Reid of Deutsche Bank sums up:
Richmond Fed President Barkin said that he didn't see persistent recurring inflation as likely, while later on Fed Reserve governor Waller joined the chorus saying that the rise in prices is "temporary".

This comes even as he forecasts inflation remaining above the 2% target through 2022, though he acknowledged that persistent 4% monthly increase would be "very concerning". Waller wants to observe a few months of economic data before calling any point an outlier or adjusting any policy stances.
The US economy will be under the microscope again later, with new data on retail sales, factory output and consumer sentiment.
The agenda
12.30pm BST: ECB monetary policy meeting accounts published
1.30pm BST: US retail sales for April – expected to rise by 1%, down from 9.8% in March
2.15pm BST: US industrial production data for April – expected to rise by 1%, down from 1.4% in March
3pm BST: University of Michigan consumer sentiment index for May – expected to increase to 90.4, from 88.3