Jackpot hari ini Result HK 2020 – 2021.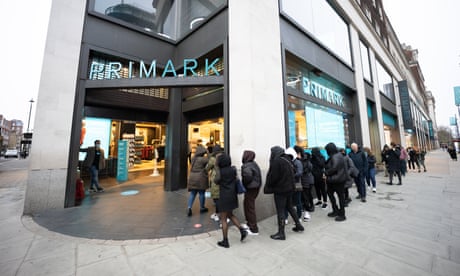 In the accountancy world, KPMG's partners have voted "overwhelmingly" to approve the nomination of Jon Holt as the firm's UK chief executive.
Holt, formerly KPMG's head of audit, takes over two months after former KPMG UK chair, Bill Michael, quit after telling staff to "stop moaning" during a virtual meeting.
In other news…the cybersecurity firm Darktrace has announced plans to float on the London Stock Exchange, in a move that will reportedly value the Cambridge-based company at £3bn.
It is the first big company to have chosen the City for its initial public offering (IPO) since Deliveroo's disappointing stock market debut last month.
Darktrace, founded in Cambridge in 2013, employs more than 1,500 staff globally and is backed by the tech entrepreneur Mike Lynch. It claims to have been the first to use artificial intelligence to detect and tackle cybersecurity threats on a large scale.
The firm, which has 4,600 customers including Rolls-Royce and memory chip producer Micron, said demand for some of its products surged last year as companies scrambled to keep up with security risks following the boom in homeworking during the Covid outbreak. Darktrace started offering its services to the NHS, free of charge, at the start of the pandemic.
The IPO will value Darktrace, co-headquartered in Cambridge and San Francisco, at about £3bn, making its chief executive Poppy Gustafsson's stake worth about £20m, according to Sky News. More here:
Outdoor hospitality venues including museums, theme parks and zoos have also been welcoming people back….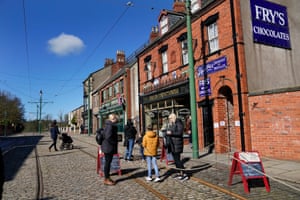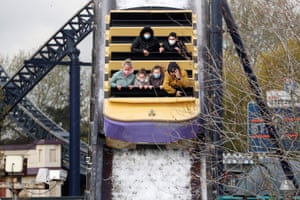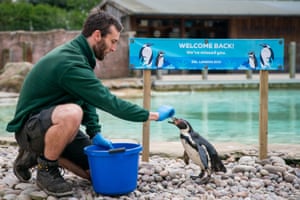 Here's Reuters' early take on this morning's footfall numbers:
The reopening of England's shopping districts drew the crowds on Monday, with footfall across all UK retail destinations to 10am BST jumping 218% on last week, Springboard data showed.

Springboard said UK footfall to shopping centres had risen by 340%. With infection numbers falling in Britain, English shops, hairdressers, gyms and pub gardens reopened early on Monday.
And here's some early reaction from Howard Archer of EY Item Club…
and the BBC's Rob Young:
Retail analyst group Springboard has just released figures on customer numbers up until 10am.
It shows that footfall (the number of people in shops, shopping centres and retail parks) has jumped over 200% so far this morning (up to 10am), compared with last week (when non-essential shops were closed).
That leaves footfall 14.7% lower than this Monday two years ago (a better comparison than a year ago, when the UK was under its first lockdown).
Retail parks are over 12% busier than in 2019, while the high street is still 31% quieter than two years ago.
Springboard reports:
Footfall across all UK destinations footfall is up +218.2% week on week
Footfall has seen rises of 339.7% in shopping centres, 232.8% in high streets and 58.2% on retail parks week on week
Footfall across all UK destinations is up by 505.1% from 2020
Footfall across all UK destinations is only -14.7% lower than 2019, with retail parks seeing an increase of +12.6%
In central London, footfall is up 230% this morning compared with last week.
But that still leaves shopper numbers in central London down around 68% compared with two years ago, reflecting the fact that tourists are keeping away and many office workers are still at home. Market towns, in contrast, are nearly 5% busier than two years ago.
Over in the eurozone, retail spending has jumped by more than expected.
Retail sales in the single currency region rose by 3% month-on-month in February, twice as fast as expected, as some countries relaxed Covid-10 rules (although they've since been tightened again, amid a new wave of infections).
This left retail sales 2.9% lower than a year ago, when the first lockdowns were being imposed in Europe. More here.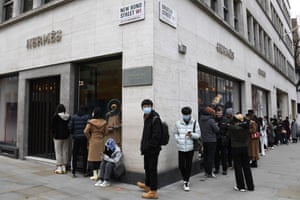 Businesses and the government are being urged to ensure front-line staff are given proper protection as shops and hospitality firms reopen.
Those staff will be enforcing rules on masks, social distancing, queues and one-way systems.
Jo Causon, CEO of the Institute of Customer Service, says employees need to be properly supported:
"As non essential retail once again reopens its doors, the increased pressure on our customer-facing workers must not be overlooked. Many take on increased responsibilities – from enforcing the wearing of face masks to enforcing social distancing – often in the face of frustrated and disgruntled customers.

Our research has shown that more than a third (34%) of customer-facing staff say the number of hostile encounters with customers has increased since the third national lockdown began – and this behaviour cannot, and should not, be tolerated.

"As measures ease, the Government and employers must step up and support these employees, through increased protection via law and additional training."
The Institute of Customer Service are calling for a new offence for those who threaten, abuse or assault customer service professionals in-person, on the phone or online.
The lifting of lockdown restrictions to allow people in England to use pub beer gardens and dine in the outdoor areas of restaurants is being met by snowfall, as a spring cold snap hits, my colleague Kevin Rawlinson writes.
The inclement weather will come as a blow to thousands of businesses that were hoping to welcome back customers on Monday after months of restrictions.
Met Office forecasters said southern England and much of Wales could expect outbreaks of rain, sleet and some snow, although this was predicted to clear through the morning, leaving sunny intervals and scattered showers.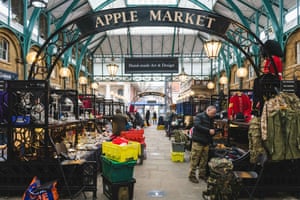 Some market traders in London's Covent Garden have set up their stalls for the first day of trading this year.
Its Apple Market ropened this morning, with traders selling antiques and collectables.
Covent Garden is pitching itself as "Your Home to Al Fresco Dining from April 12th" (an activity rather dependent on the weather brightening up).
This will be another test as to whether retail will return to normality after the pandemic, although the famous market and its surrounding shops and restaurants really need tourists to return to the capital in numbers.
Sky News reported yesterday:
By Monday the famous former flower market will have 800 alfresco restaurant seats, outdoor heaters and large umbrellas, waiters, fine food, alcohol and, they hope, lots of punters.

But are Londoners going to flock down? Or have they become too accustomed now to Deliveroo and Amazon?

Director of Covent Garden Michelle McGrath said: "Covent Garden has been around for 500 years we're very confident we will be around for a very long time….

"I think both of those things can coexist and every time we've had a lockdown and we've had an easing of lockdown what we've seen is restaurants full, shops full, queues to get in, people connecting with each other on a human level – but also here to experience the best of London."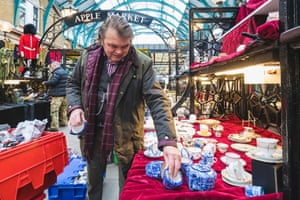 One Covent Garden business did continue trading, Sky adds:
In Jubilee Market only one man has kept going: florist Melvin Taylor, 66, began trading shrubs to become a garden centre.

"I do miss the Opera House," he said. "It was huge for business. And the theatres and the hotels. And the office workers, and the tourists. The Waldorf and The Savoy, they're not opening until 17 May. So, a lot won't open until then.
Back in the City, retailers aren't enjoying a share price jump.
Shares in AB Foods are down 2% despite the sight of keen shoppers at its Primark stores this morning, while Next has dropped 2.4% and JD Sports has dipped nearly 1%.
Russ Mould, investment director at AJ Bell, says this morning's snow was a "nasty surprise" to the sector.
But the big question is whether shoppers return to the high street, or have permanently shifted to online shopping instead:
"Reports on social media would suggest that hairdressers and barbers needn't worry as demand is sky-high. A lot of pubs have also seen strong bookings, which means all eyes are on the retail sector to see if people are happy to get back in the shops or whether they've become addicted to the online channel.

The jury is still out judging by Monday's early share price reactions…

"While it is possible that we'll see plenty of people venturing into the shops today, particularly as it provides an excuse to finally get out of the house, retailers need strong footfall to be sustained for more than just a few days otherwise they face more difficult times ahead. It seems inevitable that we haven't seen the last of the retail sector casualties."
Charity shops can also reopen today — in a welcome boost to the voluntary sector.
The Charity Retail Association says it expects "very strong trading" and high levels of donations — you can use this webpage to see if your local charity shop is open.
Robin Osterley, chief executive at Charity Retail Association, explains:
Most charity shops will be reopening their doors today and are well prepared to bounce back to life right away. There are comprehensive measures in place to keep people safe and innovative plans to deal with large volumes of donations.

It was hugely impressive and heart-warming to see all the work being done by charity shop staff and volunteers to get ready for re-opening. This includes refurbishments, general improvements to shops, changing shop layouts and working hard to make those window displays as welcoming and attractive as they can be!"
English barbers have also been busy this morning, with queues of people keen to get their barnets trimmed.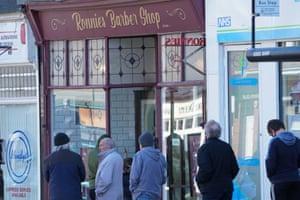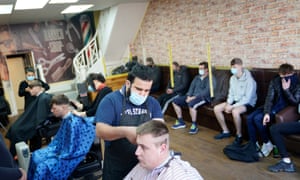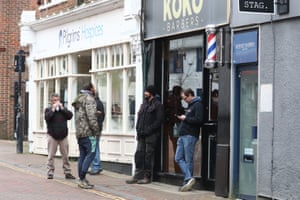 London's Heathrow Airport is still feeling the impact of the pandemic.
It reported this morning that passenger numbers fell by over 82% in March compared to a year ago.
Just 542,000 passengers passed through its terminals last month, as ongoing travel restrictions and quarantine rules continued to hit the sector.
Some hardy drinkers have already enjoyed their first pints at English pubs today…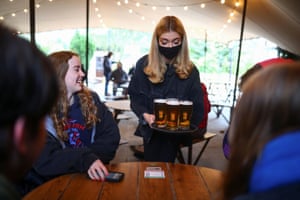 In Newcastle Upon Tyne, the Switch bar opened shortly after the clocks struck midnight: