Jackpot hari ini Result SGP 2020 – 2021.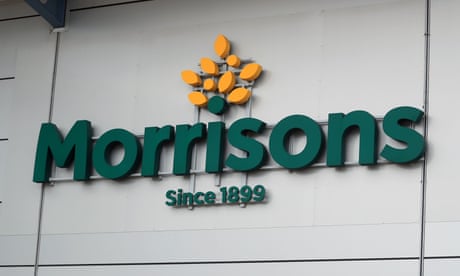 Here's our news story on Morrisons' share price surge this morning: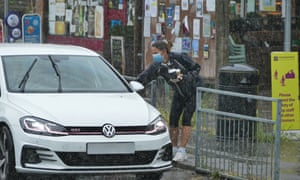 UK shopper numbers fell by 3% last week, as the widespread, and sometimes heavy, rain showers dampened enthusiasm among consumers.
Research group Springboard reports that footfall in UK retail destinations fell by 3.1% last week (to Saturday 19th).
High streets were worst hit, with footfall dropping 5.4% – and by 10.1% at high streets in Greater London.
Visits to shopping centres were down 1.3%, while retail park footfall was only 0.1% lower.
This is the second consecutive week on week decline, and means retail footfall was 22.8% lower than in 2019 (from -18.4% the week before). That shows that retailers are still under pressure despite many reopening this spring, with data last week showing retail sales dipping in May.
Diane Wehrle, Insights Director at Springboard, says bad weather and the delay to ending lockdown rules in England both hit confidence.
"The news announced last Monday that regulations will not be eased for another month seems to have acted as a dampener on consumer activity last week, with footfall across UK retail destinations lower than the week before for the second consecutive week despite hot and sunny weather in the first half of the week.

For most of the UK rain dominated the last few days from Thursday onwards, which inevitably impacted high streets most heavily of the three destination types; here the drop in footfall between Thursday and Saturday was more than twice that between the previous days."
The pound is recovering from last week's slide against the US dollar.
After touching a two-month low below $1.38 in overnight trading, sterling is now up around three-quarter of a cent at $1.388.
The dollar hit a 10-week high on Friday against a basket of currencies, but is now calmer. Raffi Boyadjian of XM says:
In the currency markets, the US dollar's near 2% surge post the Fed meeting lost some steam on Monday, providing some respite for its heavily battered peers. The dollar index edged slightly below Friday's two-month highs as the euro and pound gained about 0.2%.

The safe-haven yen and Swiss franc were mixed, suggesting the rebound in risk appetite was weak contrary to the positive signals from US equity futures.
Chris Beauchamp, chief market analyst at IG, fears the stock markets may struggle to rally much today, after the jolt from the Federal Reserve last week (when officials predicted US interest rates would rise in 2023, earlier than expected):
"Rising instances of the Delta variant in Europe will likely weigh on European markets, but the overall view continues to be that the second half of the year will see a further return to normality, boosting earnings in the medium term.

"Unsurprisingly the Morrisons news is the major headline in UK markets, and both Sainsbury's and Ocado have rallied in sympathy with the northern grocer.

"Tesco is also up, but it is viewed as a less attractive bid target given its existing dominant position, while there might be some interest in Sainsbury's as one of the main rivals to Tesco's crown."
It's been a choppy start to trading in the financial markets.
The FTSE 100 hit a one-month low early in the session, despite the lift from Tesco and Sainsbury, dropping through the 7,000 point mark to as low as 6949 points.
But the blue-chip index has since rebounded, now up 14 points or 0.2% at 7031 points, clawing back a little of Friday's 1.9% slide.
Global markets also hit a four-week low, dragged down by losses in Asia as investors worried about the prospect of US interest rate rises coming sooner than expected.
Japan's Nikkei closed 3.3% lower, while Australia's S&P/ASX 200 lost 1.8%, as traders caught up with Friday's wobble in Europe and the US.
But markets have now revived, with Europe's Stoxx 600 rising 0.3%, after the US futures market indicated Wall Street may open higher after its worst week in months.
Online supermarket technology firm Ocado is now the top riser on the FTSE 100, up 4.2% (Morgan Stanley upgraded its recommendation to 'overweight' from 'equalweight', as Ocado's shares have dropped by a third since their peak last September.)
Sainsbury are 3.8% higher, while Tesco are now up 1.7%.
British Airlines owner IAG is the top FTSE 100 faller, down 1.3%. Bank stocks are also weaker, with HSBC (-1%) and Barclays (-1%) lower. Insurer Admiral are 1.2% lower, while mining giant Rio Tinto are off 1%.
And on the smaller FTSE 250 index, Morrisons are still sharply higher – currently trading at 235p (+31.7%).
Capita's shares (+7%) rallied this morning after it told the City it is on course to grow its revenues this year, for the first time in six years, and announced the sale of Axelos, its joint venture with the UK Cabinet Office.
Capita said trading had improved this year, in line with expectations, including some new contract wins:
We have won a number of significant contracts this year, including the Royal Navy Training contract through our Government Services and People Solutions divisions (Total Contract Value £925m), the extension of a European telecoms client (TCV £528m) and an extension for Tesco Mobile (TCV £58m), both in Customer Management.
Axelos is being sold to PeopleCert International Ltd for an enterprise value of £380m, as part of Capita's push to raise funds through asset sales after the pandemic slowed its recovery.
Capita, which owns a 51% stake, will receive £172.5m, plus a cash dividend of £11.1m before the deal's completed, so £183.6m in total.
Axelos offers a range of training programmes, certifications and 'best practice' project management schemes, including the PRINCE2 project management method developed by the UK government to try to keep projects on track and to budget.
It was created to generate money by selling frameworks created in Whitehall to private companies (or "converting civil service brainpower into lucrative businesses", as the FT dubbed it back in 2015).
Axelos's methodologies are now used in private, public and voluntary sectors in more than 180 countries – last year it generated revenue of £42.9m and profit before tax of £24.3m.
Jon Lewis, Capita's Chief Executive Officer, said:
"We are very pleased to have agreed, alongside Cabinet Office, the sale of our joint venture AXELOS to PeopleCert after a competitive auction process.

"Capita and Cabinet Office have partnered together to grow the business over the last eight years, creating significant value for us and the taxpayer.

"AXELOS is an excellent example of a successful collaboration between the private sector and the UK Government."
AJ Bell investment director Russ Mould has written an interesting note on the takeover interest in Morrisons.
He points out that the UK supermarket sector had been seen as a "slow growth, highly competitive market", so not a natural source of takeover activity.
"Mergers were more plausible, such as we saw with Sainsbury's trying to marry Asda to gain scale and find a new source of earnings growth. But non-trade buyers swooping for deals didn't seem like an obvious play until we saw the Issa brothers snap up Asda after the Sainsbury's deal collapsed.

"Strategically Morrisons has cemented an important relationship as a key supplier and partner to Amazon, and to McColls convenience stores. It has also established a successful online delivery service.
Mould also points out that Morrison's balance sheet looks attractive, especially to a private equity firm looking to sell assets to release cash.
"Morrisons' balance sheet has plenty of asset backing and the valuation was relatively depressed before news of private equity interest.

"The business had done a lot of hard work and put itself in a stronger position to continue fighting competitive threats, but the market hadn't recognised this shift and the shares had languished due to concerns about the difficult environment in which Morrisons operates.

"The market value of the business had weakened so much that it clearly triggered some alerts in the private equity space to say the value on offer was looking much more attractive.

"As of the market close on Friday, Morrisons had shareholder equity of £4.2 billion according to the last set of accounts and a market value of £4.3 billion, so it was trading at pretty much one times book value – a good start for any value-oriented investor.

"There was a pension surplus, only £2.3 billion of debt and £1.3 billion of lease liabilities. Add all of those up and the enterprise value for Morrisons was £7.9 billion, yet the firm has £7.4 billion of property and assets on its balance sheet – prime private equity territory. Limited liabilities plus lots of assets offers scope for quickly releasing cash from the business.

"Other attractive facets include the firm's heavily vertically integrated model – in tune with the zeitgeist when it comes to food provenance and environmental, social and governance trends.
So, this morning's share price surge suggests the City expects either a higher bid from Clayton, Dubilier & Rice, or another suiter, Mould concludes:
"This is not to say Morrisons is a slam-dunk. But you can see the value case for the shares and that must be the key attraction for CD&R. The issue now is how the big shareholders respond and whether they – and the Morrisons board – feel they can squeeze out a higher bid or feel sufficiently confident in Morrisons' strategy and long-term competitive position to spurn the offer altogether.

"The shares traded at 235p early on Monday which is higher than that 230p proposal from CD&R. The market therefore seems confident that the suitor will have to raise its offer price or someone else might step into the game and we'll see a bidding war.

"Amazon has long been touted as a potential buyer for Morrisons to help give it a much stronger foothold in the UK grocery markets so that's an obvious name to watch."
Simon French of Panmure Gordon points out that loose financial conditions, low valuations, and the UK's 'permissive' takeover regime are driving bids for UK companies.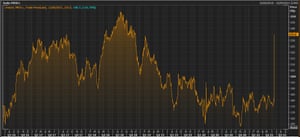 Morrisons shares are holding their gains, and are trading over 31% higher at around 234.5p – above CD&R's 230p per share approach (which was rebuffed).
It's firmly the top riser on the FTSE 250 leaderboard of medium-sized companies listed in London (Morrisons was relegated from the blue-chip FTSE 100 earlier this year), ahead of outsourcing firm Capita (+5.5%) and high street clothing and food chain Marks & Spencer (+3%)
Shares in Wm Morrisons have surged by around 30% at the start of trading in London.
They've jumped to around 233p, up from 178.45p on Friday night.
That's slightly above the 230p per share conditional cash offer made by Clayton Dubilier & Rice (CD&R), which valued Morrisons at just over £5.5bn, and which was rejected.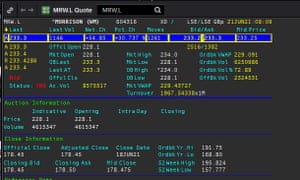 The stock market is open…and shares in Sainsbury's, the UK's second-largest supermarket chain, have jumped by over 4.5% to the top of the FTSE 100 leaderboard.
Market leader Tesco are close behind, up 2.5%, on speculation that other supermarket chains are now 'in play' for private equity firms…… as we wait for Morrisons to trade….
The Times says the board of Morrisons will seek assurances from any buyer on the future of its workforce, manufacturing and pensions, as the Bradford-based supermarket group prepares for rival bid approaches.
Ashley Armstrong writes:
Morrisons' board is understood to recognise that the retailer is now "in play". However, as well as an attractive price it would want commitments and assurances from any bidder.
Good morning, and welcome to our rolling coverage of the world economy, the financial markets, the eurozone and business.
A shock takeover approach for Wm Morrison from private equity firm Clayton Dubilier & Rice has raised fears over possible job losses, and could prompt a bidding war for the UK's fourth largest grocer.
Although Morrisons rejected CD&R's £5.52bn possible cash offer, analysts believe the company will face further overtures – and that other potential buyers could enter the mix too.
Nick Bubb, an independent retail analyst, predicted:
"I suspect a [Morrisons] deal can be agreed at 250p-260p and after that the focus will increase on a potential breakup of Sainsbury and even Tesco, so it should be a lively day on the stock market.

I certainly wouldn't want to be a hedge fund short of any of the big three.
We'll get the City's verdict when stock market trading begins at 8am.
Another analyst said that other supermarket chains could now be 'in play':
"The whole industry is in play now. It's not unrealistic to say that there could not be a single quoted British supermarket left in the foreseeable future."
The private equity industry have a reputation of swooping on undervalued businesses, loading them with debt, creating risks to jobs and pensions – and the wider economy – if things turn sour.
The Labour Party has expressed concerns that Morrisons – one of the supermarkets that kept the UK fed through the lockdown – could fall into private equity hands.
Seema Malhotra, the shadow minister for business and consumers, warned:
"Britain's supermarkets stepped up to serve communities during the pandemic. Our supermarkets that play a role at the heart of our communities need owners that put the long-term interests of the business and its employees first.

"When Debenhams went bust we saw private equity firms walk away while employees lost their jobs and staff who have paid into the pension scheme were left out of pocket. Too often dodgy private equity firms load the companies with debt and leave while pocketing the dividends. This has to end."
As well as employing around 120,000 staff and running almost 500 stores, Morrisons also has a significant food manufacturing businesses, including bakeries, abattoirs, fishing fleets and egg farms.
CD&R is likely to wait before taking its next step, to gauge investor and public reaction. It has 28 days to make a formal offer, or walk away.
Here's my colleague Julia Kollewe's story on the bid:
Also coming up today….
Financial markets feel edgy after tumbling on Friday, amid fears that rising inflation could force central banks to slow their unprecedented stimulus measures.
Asia-Pacific markets have fallen sharply, catching up with Friday's losses in Europe and the US, which saw the FTSE 100's worst day in a month and the Dow Jones's Industrial Average's worst week since last October.
Japan's Nikkei has led the slump today, sliding around 3.3% in late trading, while South Korea's KOSPI has dropped around 1%.
European markets are expected to open lower too.
Friday's slide was partly fuelled by St. Louis Fed President James Bullard, who said America's central bank had turned "more hawkish" to contain inflationary pressures.
The prospect of tighter monetary policy has hit the move into stocks likely to benefit from a global rebound and a jump in commodity prices, as Jeffrey Halley, senior market analyst, Asia Pacific, OANDA explains:
Federal Reserve official James Bullard became the proverbial bull in a China shop on Friday when he said that the Fed might need to raise rates in late 2022 instead of 2023. That sparked a run for the exit door for equity markets and commodities while the US Dollar powered higher.

The US yield curve continued to flatten as long-dated bond yields slumped, notably in the 20-year tenor.

The major casualty has been the global reflation/cyclical recovery trade.
The agenda
11am BST: Germany's Bundestag's monthly report
1.30pm BST: Chicago Fed National Activity Index for May