Bonus harian di Keluaran SDY 2020 – 2021.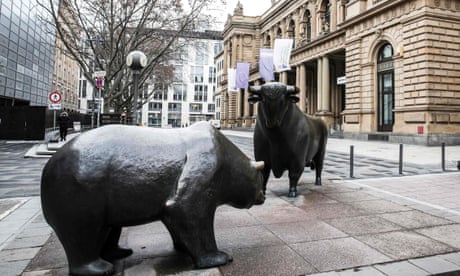 Order books at UK factories have swelled to their highest levels in nearly two years, in a sign that Britain's manufacturing sector is picking up.
The CBI's industrial trends survey found that total order books 'improved considerably on February', rising to their strongest position since April 2019, and above the long-run average.
The balance of firms reporting higher output volumes over the last quarter also rose, to its highest level since April 2019.
Eight out of 17 sub-sectors reported an increase in output in the three months to March; growth in the electronic engineering and plastic products was offset by declines in paper, printing & media and aerospace.
The survey also found that manufacturers expect output to pick up rapidly over the next three months, with expectations at their strongest since August 2017.
But… manufacturers also expect to raise prices as they grapple with increased costs; with expectations of output price growth reaching their highest since February 2019.
Anna Leach, CBI Deputy Chief Economist, said:
"It's great to see the mood lift among manufacturers, buoyed by a jump in order books. But firms continue to grapple with higher freight costs as well as raw material shortages. Consequently, manufacturers anticipate prices to grow at a quick pace next quarter.

Meanwhile, risks to growth in European markets are elevated given the slow pace of vaccine roll-out and the likelihood of further lockdowns.
The CBI have tweeted the details too: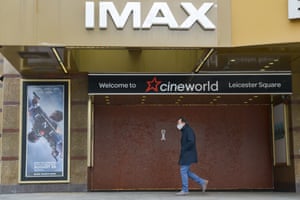 After a rotten year, cinema chain Cineworld is hoping that Godzilla and King Kong can lure customers back to its screens.
Cineworld, the world's second-largest cinema operator, will reopen its screens in the US next month to coincide with the new film releases Godzilla vs Kong and Mortal Kombat, and has struck an exclusivity agreement with Warner Bros.
Cineworld, whose cinemas have been shut for the past six months because of the Covid-19 pandemic, said some of its 536 Regal theatres in the US would open on Good Friday for Godzilla vs Kong, the fourth film in Legendary Entertainment's MonsterVerse. The remainder will reopen with Mortal Kombat on 16 April….
Sterling is also down this morning.
It has dropped by a cent against the US dollar, to a six-week low of $1.376.
That takes the pound further away from the three year highs seen in February, when optimism about this year's economic recovery was boosting the currency.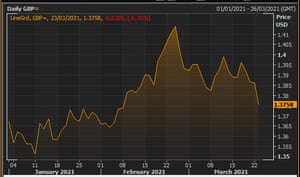 Against the euro, the pound is down 0.3% at €1.157.
Neil Wilson of Markets.com says investors are more risk-averse today.
Looks to be a pretty soggy morning for risk as sterling slipped to its weakest since the start of February, whilst the dollar is bid, shares slipped, oil fell and bond yields retreated ahead of the Congressional testimony of Fed chair Jay Powell and Treasury Secretary Janet Yellen.

We kind of know where the Fed is at in terms of yields, inflation and accommodation. We will want to hear a lot more about what Yellen says on additional stimulus, with Biden's mooted $3tn plan in the offing.
The pound's rally earlier this year was driven, in part, by the sucess of the Covid-19 vaccination programme, so the row over access to the Oxford/AstraZeneca vaccine could drag sterling lower.
Reuters explains:
"One of the reasons why sterling has strengthened this year is the successful vaccine rollout but the UK relies on imported vaccines," said Lars Sparresø Merklin, senior analyst at Danske Bank.

"There are growing tensions between the UK and the EU, with more and more EU countries considering backing a vaccine export ban to the UK, which may delay the UK's vaccination plan. We do not think the EU will implement an export ban (because it may turn out to hit themselves as well) but it is a topic to watch."
The oil price has now fallen over 3%, extending its earlier losses, amid worries that fresh Covid-19 restrictions in Europe will hit demand.
Brent cude is now down over $2 per barrel, at $62.40, while US crude has dropped back below $60 per barrel.
Naeem Aslam of AVA Trade explains:
Investors are concerned that oil demand is going to face a difficult time in the coming days because of the rollback of the coronavirus measures in a number of European countries.

Both Brent and Crude oil have seen over a 6% drop last week–the worst weekly drop for oil prices for this year. Oil producers are still optimistic as they believe demand recovery is taking place, but it will take some time.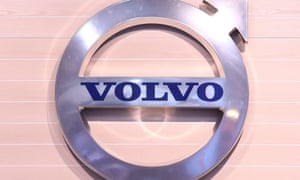 A warning from Swedish truckmaker Volvo that the global shortage of semiconductors will hit its production is weighing on the auto sector today.
Volvo reported last night that it will introduce "stop days" across its global truck manufacturing operations, as it is struggling to obtain chips.
In a statement last night, Volvo said the global shortage of semiconductors will have a substantial impact on its production in the second quarter of this year.
It explained:
In the beginning of the quarter, the Group will implement stop days across its global truck manufacturing operations. In total, these are currently estimated to between two and four weeks depending on production site.

In addition, disturbances are also expected to impact the Group's other business areas.

Visibility into the global supply chain of semiconductors as well as other components is currently very low and the uncertainty about the development is high.

The disturbances are expected to have a negative impact on earnings and cash flow.
Shares in Volvo have fallen 7%. Other European carmarkers are down too, with Volkswagen (-2.8%) and Daimler (-2.5%) leading the fallers on Germany's DAX index today.
Manufacturers have been warning for weeks that semiconductors were in short supply due to a surge in demand, as the global economy recovers from the pandemic.
This means consumers face price rises and shortages of products, analysts say, with TVs, mobile phones, PCs and games consoles affected as well as cars.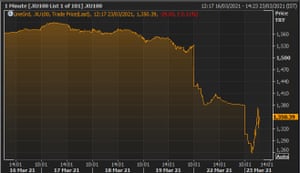 Over in Istanbul, stocks are falling for the second day after the shock dismissal of central bank governor Naci Ağbal over the weekend.
The benchmark BIST 100 index slumped by 5% earlier today, and is currently down around 2.5% in volatile trading. That follows a tumble of around 9.8% on Monday — the worst day since 2013.
Financial stocks are leading the fallers, with property and healthcare companies also hit, although consumer stocks are faring better.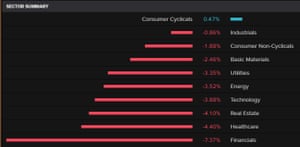 Bloomberg reports that market-wide circuit breakers were triggered for a second day following the dismissal of Ağbal, whose recent interest rate rises had reassured investors.
President Recep Tayyip Erdogan's ouster of Naci Agbal prompted speculation the monetary authority will break with his hawkish policies, sparking a slump in the lira and sending 10-year bond yields higher by more than 4 percentage points.

Foreign investors have a big presence in Turkey's banking industry and the nation's lenders have led the equity declines.
The Turkish lira is recovering a little after yesterday's 8% slump, up around 1% at 7.7 to the US dollar.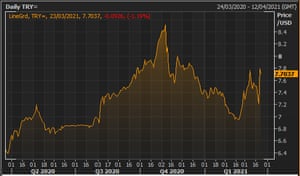 The lira plunged 15% at one stage on Monday, amid predictions that Ağbal's replacement, Şahap Kavcıoğlu, could cut interest rates from their current level of 19%.
Reuters reports that confusion and uncertainty over Turkey's future gripped the markets again today:
Opposition politicians seized on what they called a dangerous and baffling move by the president to oust a bank governor, Naci Agbal, who had gained market credibility as an inflation-fighter in less than five months on the job.

"The ridiculous steps you take, the unqualified people you appoint are not enough," Iyi Party chairwoman Meral Aksener said in parliament. "Every error you insist on carries us deeper into trouble … We are on the verge of a balance of payment crisis."
Here's more reaction to the UK labour market report:
Economists say the drop in Britain's unemployment rate shows that the furlough scheme is protecting jobs… but there could still be more job losses ahead.
Ruth Gregory, senior UK economist at Capital Economics:
The drop in the unemployment rate from 5.1% in December to 5.0% in January highlights once again the extent to which the government's job furlough scheme has protected jobs during the pandemic.

We still expect the unemployment rate to rise further to a peak of 6.0% by early 2022, but that would be a much better result than most feared only a few months ago.
Jai Malhi, global market strategist at J.P. Morgan Asset Management:
"Today's strong labour market report has shone a light on how important the Chancellor's furlough scheme has been at preventing job losses and keeping the UK on the road to recovery.

With the furlough scheme extended until the end of September, the chances that the unemployment rate rises to levels last seen in the financial crisis or even reaching the OBR's forecast of 6.5% seems an unlikely destination.

"The Chancellor will now be hoping the vaccine proves to be the vehicle that takes us across the bridge that he's helped to build, to the other side of the virus, and that the strength in jobs leads to a speedy rebound in economic activity in the second half of the year."
Debapratim De, senior economist at Deloitte:
"With payrolls up for the third consecutive month in February, the furlough scheme continues to cushion the blow to the labour market from the current national lockdown.

We expect unemployment to remain somewhat steady until summer, followed by a gradual rise over the third quarter as employer contributions towards furlough pay begin to pick up in July."
Unemployment in the UK has fallen for the first time since the coronavirus pandemic began despite the toughest lockdown measures since the first wave spread a year ago, according to official figures.
The Office for National Statistics said the unemployment rate fell back slightly to 5% in the three months to January, representing 1.7 million people – down from 5.1% in the three months to December.
City economists had forecast a rise in the jobless rate to 5.2%. The government's furlough scheme continues to support the jobs market, with nearly 5 million people still on the emergency wage scheme.
The latest snapshot showed a 68,000 increase in the number of workers on company payrolls in February, by compared with January, as the roadmap out of lockdown restrictions boosted prospects. It was the third consecutive monthly increase.
However, the number of people on payroll has plunged by 693,000 since the start of the pandemic, with younger workers under the age of 25 accounting for 60% of the jobs lost since February 2020. More than half of the fall was in hospitality, while almost a third was in London.
The unemployment rate remains 1.1 percentage points higher than a year ago before the pandemic struck. Figures compiled by the ONS also showed the number of non-UK born workers in the final quarter of 2020 was half a million lower than a year ago.
Here's the full story:
All Europe's stock markets are in retreat this morning.
Germany's DAX index is leading the selloff, down 0.8%, after chancellor Angela Merkel extended lockdown restrictions and warned that the country in "in a new pandemic".

The broader Stoxx 600 index is down 0.5%, away from the one-year highs seen last week.
It's a similar picture on the FTSE 250 index of smaller, more UK-focused companies.
SSP Group, which runs Caffè Ritazza and Upper Crust outlets at airports and railway stations across the UK, has dropped 5%, while cruise operator Carnival are down 3%.
Package holidaymaker TUI and budget airline easyJet are both down 2.6%….. as are WH Smiths, which operates shops at transport hubs as well as the high street.
Travel and hospitality stocks are dragging the London stock market down, as trading begins.
British Airways parent company, IAG, has fallen 2.3%, as hopes of summer holiday getaways are hit. Hotel groups Intercontinental (-1.4%) and Whitbread (-1.3%) and luxury goods maker Burberry (-1.9%) are also down.
Oil giant BP has dropped 2%, following the slide in crude prices this morning.
Britain's FTSE 100 index is 40 points lower at 6686, a drop of 0.6%.
Here's a round-up of the latest Covid-19 restrictions in Europe:
The oil prices has fallen over 1% today amid concerns that the latest pandemic curbs and slow vaccine rollouts in Europe will hit the economic recovery.
Brent crude is down 1.1% to $63.91 per barrel, extending its recent losses, while US crude is back at $60.90.
Brent hit over $70 per barrel early this month, fuelled by supply curbs and hopes that the US stimulus package would drive demand.
But it has since weakened, amid the row over distribution of AstraZeneca's vaccine, the temporary suspensions of jabs in Europe, and the rise in Covid-19 cases there.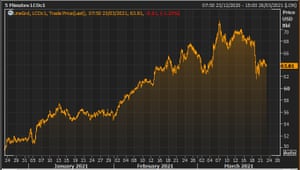 Jeffrey Halley, senior market analyst at OANDA, explains:
The vaccine spat is negative for European and UK asset markets this week.

Europe is also contending with spiking Covid-19 cases and reimposing or extending lockdowns across major European economies. That has been felt most keenly in oil markets, with reassessments of future consumption taking place.

The spike in Covid-19 cases in India, the world's third-largest oil importer, threatens to deepen that gloom. In Europe's case, though, its recovery is now inevitably delayed and will be a headwind for the Bloc's markets this week.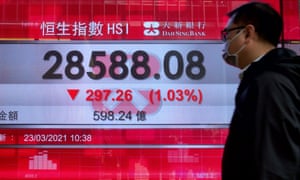 China's stock markets fell today amid worries over the sanctions imposed by the UK, Europe, US and Canada, and concerns that rising Covid-19 cases could hit the global recovery.
The benchmark CSI 300 index fell around 1%, back towards its lowest levels of 2021 — and sharply away from the 13-year high seen in January.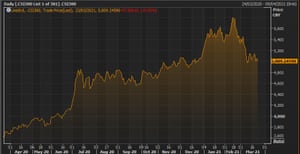 Hong Kong's Hang Seng index was worse hit, down 1.4%, while South Korea's KOSPI has lost 1%.
Ipek Ozkardeskaya, senior analyst at Swissquote, says rising global diplomatic tensions and escalating Covid cases are weighing on investor appetite.
Market sentiment is mixed on the back of rising Covid cases despite vaccinations and escalating tensions between China and the West.

The major US indices kicked off the week on a positive footing, but Asian indices didn't follow up on the New York session gains. Most Asian indices traded in the red. Chinese indices led losses on the back of reviving diplomatic tensions after the US, the UK, Europe and Canada imposed sanctions on Beijing over human right abuses in Xinjiang. The latter will further weigh on fragile US-China trade relations and add fuel to the global trade war.
Rising tensions between China and Western countries are also weighing on the markets today.
Last night Britain, the EU, the US and Canada imposed parallel sanctions on senior Chinese officials involved in the mass internment of Uighur Muslims in Xinjiang province.
The sanctions will be imposed immediately and include travel bans and asset freezes on four officials — a co-ordinated move that sparked an immediate retaliation from Beijing.
Our diplomatic editor Patrick Wintour explains:
The move..marked the first time in three decades that the UK or the EU had punished China for human rights abuses, and both will now be working hard to contain the potential political and economic fallout. China hit back immediately, blacklisting MEPs, European diplomats and thinktanks.

The US and Canada also imposed sanctions on several senior Chinese officials as part of the coordinated pressure campaign.

The UK foreign secretary, Dominic Raab, said China's treatment of the Uighur minority was "the largest mass detention of an ethnic and religious group since the second world war". Evidence of repression in Xinjiang "is clear as it is sobering", he said.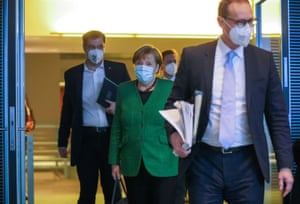 Good morning, and welcome to our rolling coverage of the world economy, the financial markets, the eurozone and business.
European markets are heading for a lower open today as anxiety over a third wave of Covid-19 rises.
Overnight, Germany announced it will extending its lockdown over the Easter period in an attempt to slow the pandemic.
Chanceller Angela Merkel warned that the country was in a "very serious" situation and was racing to get vaccinations done.
Under the new restrictions, Social gatherings would be limited over Easter, with 1 – 5 April designated "quiet days" when no more than five adults from two households will be able to meet at home at once.
Merkel said at a news conference on Monday night:
"We are now basically in a new pandemic. The British mutation has become dominant."
Yesterday, UK prime minister Boris Johnson warned that a third wave of coronavirus elsewhere in Europe would inevitably affect the UK.
People in this country should be under no illusions that previous experience has taught us that when a wave hits our friends, it washes up on our shores as well. I expect that we will feel those effects in due course.
Travel and hospitality stocks fell yesterday, as hopes of a summer holiday getaway took a knock.
The main European bourses are expected to open lower, with the UK's FTSE 100 expected to drop 0.5%.
Fresh lockdown restrictions would be a blow to hopes of a strong economic recovery this year, as Stephen Innes of AXI Trader points out.
Germany is trying to slow the third wave by locking down over Easter. Although the major economies of the Eurozone are targeting a full vaccine roll-out by August, where they might still succeed, in the interim, a sustained recovery in consumer spending relative to the US and UK looks set to disappoint.

Oil is struggling in Asia as lockdown concerns rear their ugly head again. German Chancellor Merkel has proposed extending and slightly tightening the existing Covid restriction for another 4 weeks. Dr Fauci is warning of a possible Covid surge in the US following the rise in Europe. And the latter is likely sounding New York City reopening alarm bells with Mayor De Blasio urging a pause in the reopening narrative.
The agenda
7am GMT: UK unemployment report
11am GMT: Industrial trends survey of UK factories in March
11.50am GMT: Bank of England governor Andrew Bailey at the Economist Sustainability week, on "Unlocking investment for net zero"
2pm GMT: US new home sales report